Crunchy Chicken Cilantro Lettuce Wraps
Lettuce wraps look fun and festive, especially when they're arranged on a large platter.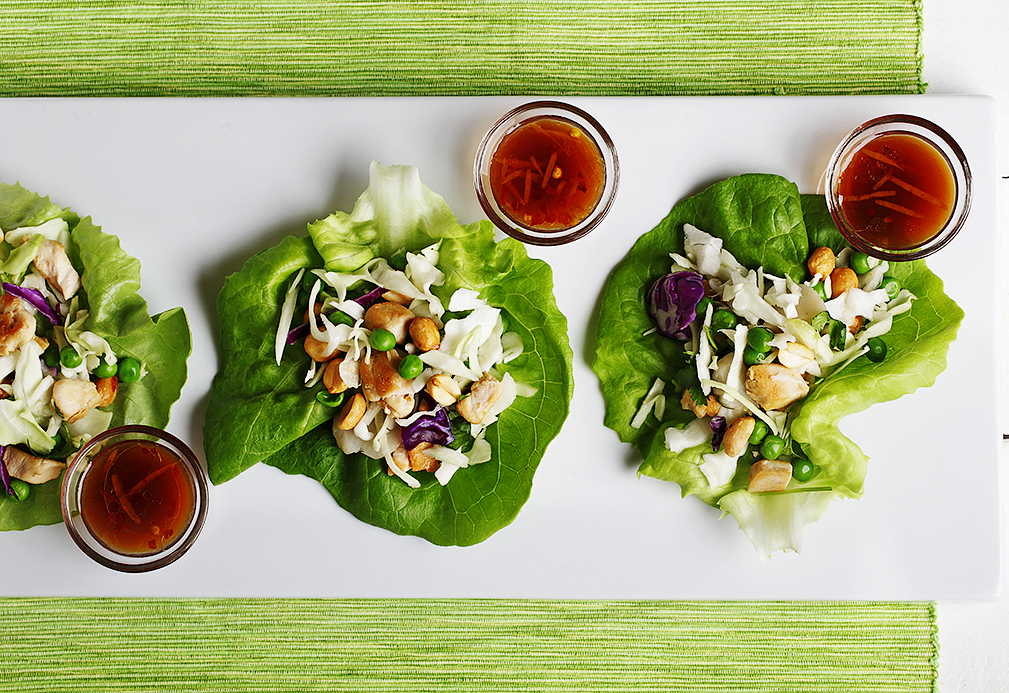 Ingredients
Sauce
3 Tbsp reduced-sodium soy sauce 45 mL
2 Tbsp granulated sugar 30 mL
2 Tbsp fresh lime juice 30 mL
1 Tbsp canola oil 15 mL
1 Tbsp water 15 mL
1 to 1 1/2 tsp orange zest 5 to 7 mL
1/4 tsp dried red pepper flakes 1 mL
Filling
2 cups bagged coleslaw mix 500 mL
1/2 of (8 oz/225 mL) can sliced water chestnuts, drained and cut in half 
1/2 cup frozen green peas, thawed 125 mL
1 cup pre-cooked diced chicken breast 250 mL
1/3 cup (1 1/2 oz/ 45 g) dry roasted peanuts, toasted 75 mL 
1/4 cup chopped fresh cilantro leaves 60 mL
12 large Boston Bibb or romaine lettuce leaves, rinsed and patted dry
Instructions
1. Combine sauce ingredients in a small bowl and whisk until well blended. Combine filling ingredients in a medium bowl.
2. To serve, arrange three lettuce leaves on each of four dinner plates and spoon equal amounts of filling on top. Serve with sauce on the side. Have people roll up their own lettuce wraps and dip into sauce.
Yield
4 servings
serving size
3 lettuce wraps
nutritional analysis
Per Serving
Calories
225
Total Fat
10 g
Saturated Fat
1.4 g
Cholesterol
30 mg
Carbohydrates
17 g
Fiber
4 g
Protein
16 g
Sodium
585 mg