Crustless Apple and Roasted Fennel Quiche
Fennel offers a sweet and mellow flavor that complements the apples beautifully in this easy breakfast or brunch dish.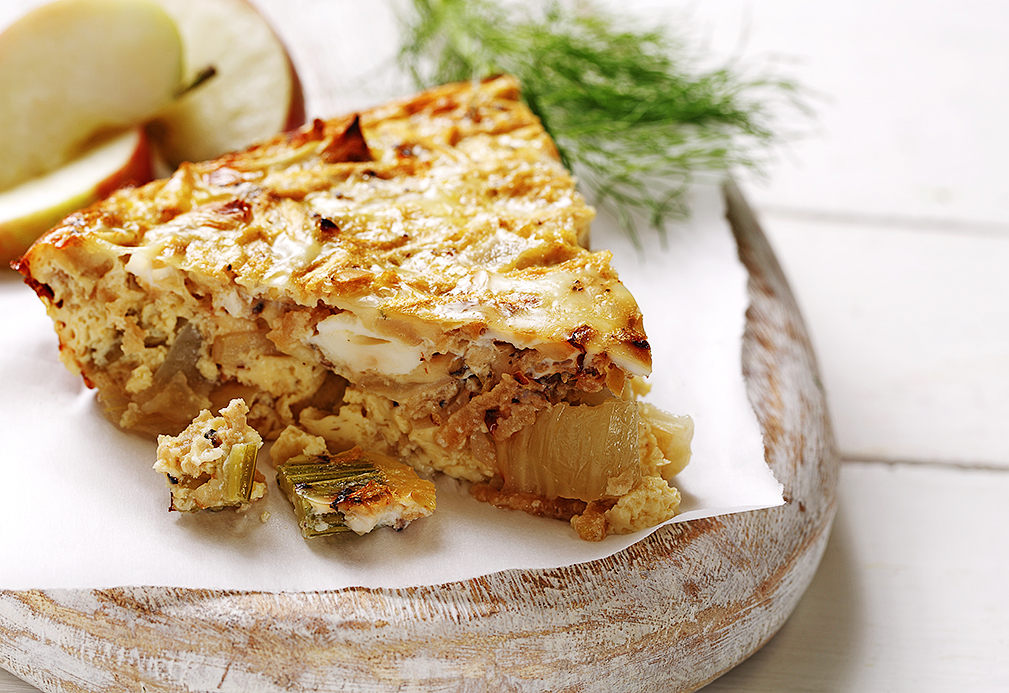 Ingredients
3 cups diced fresh fennel (use both the white and green parts) 750 mL
2 Tbsp canola oil, divided, plus extra to oil the quiche pan 30 mL
1/4 tsp freshly ground pepper, divided 1 mL
1 medium onion, chopped
3 eggs
6 egg whites
1 cup skim milk 250 mL
1 apple, unpeeled, coarsely grated
1/2 cup grated low-fat Swiss cheese 125 mL
Instructions
1. Preheat oven to 400ᵒF (200ᵒC). Line a baking sheet with parchment paper.
2. Toss diced fennel in 1 Tbsp (15 mL) of the canola oil and season with pepper. Place on baking sheet and roast for about 25 minutes.
3. In saucepan, heat the remaining 1 Tbsp (15 mL) of canola oil. Sauté onion for about 5–6 minutes. Remove from heat.
4. In large bowl, whisk eggs and egg whites. Add milk and continue to whisk. Add 1/8 tsp (0.5 mL) pepper.
5. Add roasted fennel, onions, grated apple, and cheese to eggs and stir to combine. Transfer to an oiled 9-in. (22-cm) round, deep-dish pie pan or quiche pan and bake for 35–40 minutes or until set.
Yield
4 servings
serving size
1 slice
nutritional analysis
Per serving
Calories
250
Total Fat
12 g
Saturated Fat
2.5 g
Cholesterol
150 mg
Carbohydrates
20 g
Fiber
4 g
Sugars
14 g
Protein
16 g
Sodium
170 mg
Potassium
554 mg