Baked Apple and Banana Oatmeal
Upgrade your oatmeal with this baked version - made especially heart-healthy with the use of canola oil, which is rich in plant-based omega-3 fat and a good source of vitamin E. You can substitute berries for the apple if you prefer.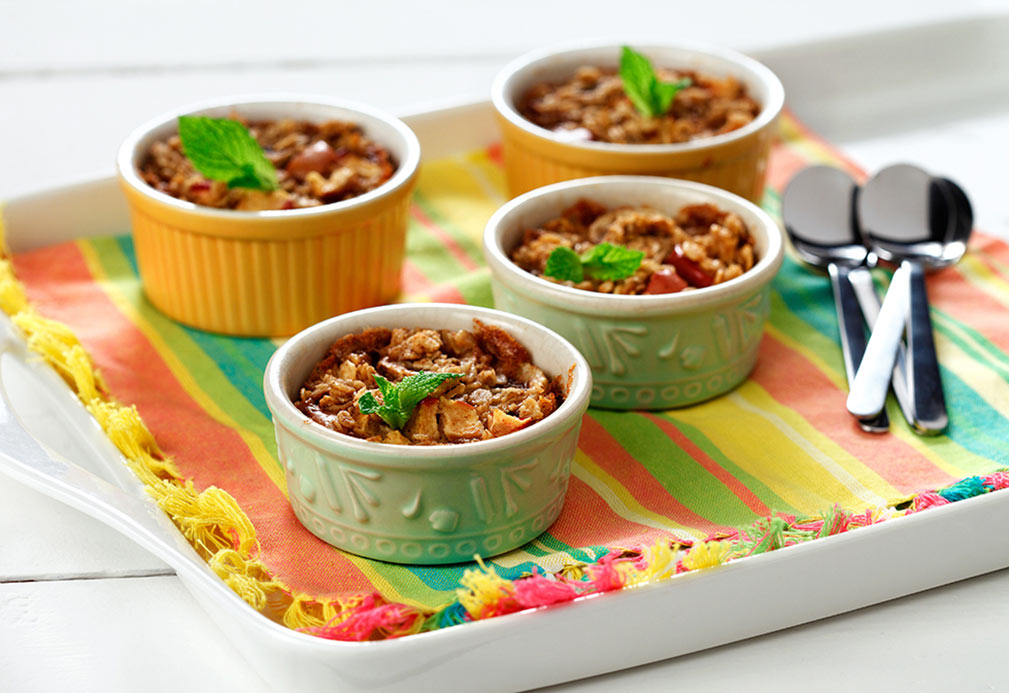 Ingredients
2 cups rolled oats 500 mL
1/2 Tbsp baking powder 7 mL
1 tsp cinnamon 5 mL
1/4 tsp salt 1 mL
1 apple, diced  
1 banana, sliced
1 egg
1 cup skim milk 250 mL
3 Tbsp canola oil 45 mL
1/3 cup maple syrup or brown sugar 75 mL 
3/4 tsp vanilla extract 4 mL
canola oil cooking spray
Instructions
1. Preheat oven to 350°F (180°C).
2. In large bowl, mix together oats, baking powder, cinnamon and salt. Stir in apples and banana; set aside.
3. In another bowl, whisk together egg, milk, canola oil, maple syrup or brown sugar and vanilla extract. Pour over dry mixture and gently stir to combine.
4. Spray 8 x 8-inch (20 x 20-cm) baking dish with canola oil spray. Pour mixture into baking dish and bake for 45 minutes, until golden brown. 
Yield
8 servings
serving size
1/2 cup (125 mL)
nutritional analysis
Per Serving
Calories
210
Total Fat
7 g
Saturated Fat
0.5 g
Cholesterol
25 mg
Carbohydrates
33 g
Fiber
3 g
Protein
5 g
Sodium
170 mg