Fresh Spinach and Sweet Tomato Omelette with Feta
Omelettes are one of the easiest dishes to prepare and one of the most fun to fill. Canola oil's light taste helps all the fresh flavors here shine.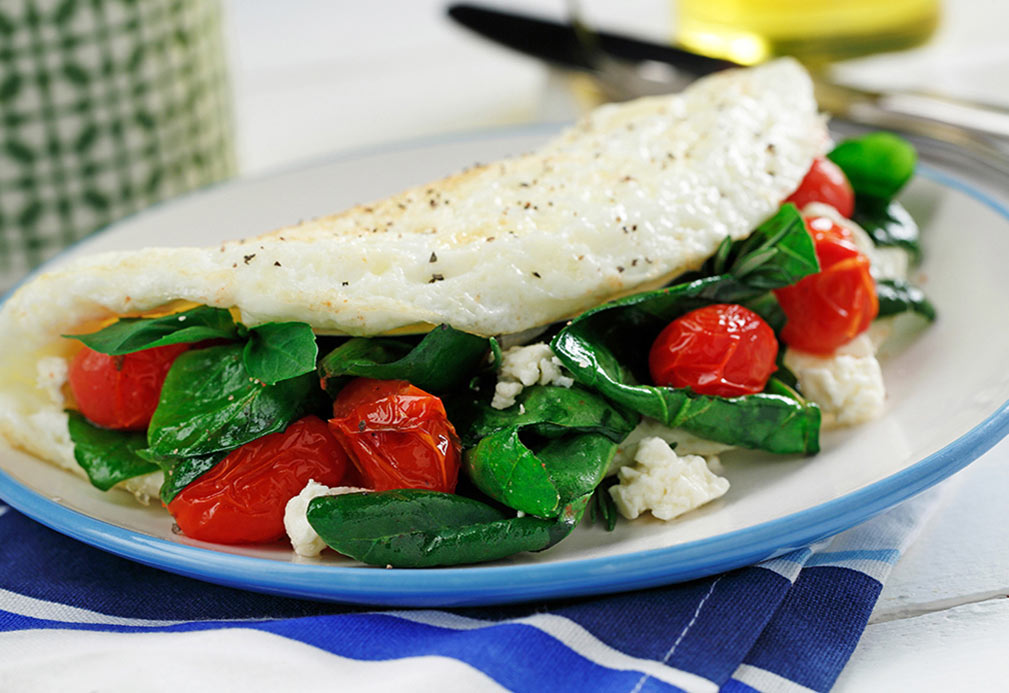 Ingredients
2 cups egg substitute* 500 mL
3 Tbsp fat-free milk 45 mL
2 cups (2oz/60 g) loosely packed baby spinach 500 mL
2 Tbsp chopped fresh basil leaves 30 mL
1 Tbsp canola oil 15 mL
1 cup grape tomatoes, quartered 250 mL
1/2 tsp chopped fresh rosemary leaves 2 mL
1/2 cup (2 oz/60 g) reduced-fat feta cheese 125 mL
*made with egg whites
Instructions
1. In a medium bowl, combine egg substitute and milk and whisk until well blended.
2. In another medium bowl, place spinach and basil; set aside.
3. In a small nonstick skillet over medium-high heat, heat canola oil. Add tomatoes and rosemary, and cook 2 minutes or until soft, stirring frequently. Add to bowl with spinach and basil, toss, and cover to allow spinach to wilt slightly and flavors to blend while preparing omelettes.
4. Reduce heat to medium. Wipe skillet clean with damp paper towel. Coat skillet with canola oil cooking spray and place over medium heat until hot. Pour half of egg mixture into skillet. Cook 5 minutes; as eggs begin to set, gently lift edge of omelet with spatula and tilt skillet so uncooked portion flows underneath.
5. When egg mixture is set, spoon half of tomato mixture over half of omelette. Top with half of feta cheese. Loosen omelet with spatula and fold in half. Slide omelet onto serving plate and cover with foil to keep warm. Repeat with remaining ingredients.
Tip: For variety, place each omelet half in a warmed whole-wheat tortilla and top with 1 to 2 Tbsp (15 to 30 mL) of picante sauce for unique, garden-fresh breakfast burritos!
Yield
4 servings
serving size
1/2 omelet
nutritional analysis
Per Serving
Calories
135
Total Fat
6 g
Saturated Fat
1.5 g
Cholesterol
5 mg
Carbohydrates
5 g
Fiber
1 g
Protein
16 g
Sodium
445 mg