Cuban Inspired Sandwiches with Sun Dried Tomato Canola Mayonnaise
Recipe developed at The Culinary Institute of America (CIA) by Chef Instructor Brenda La Noue. See Chef Tucker Bunch prepare the recipe in the video.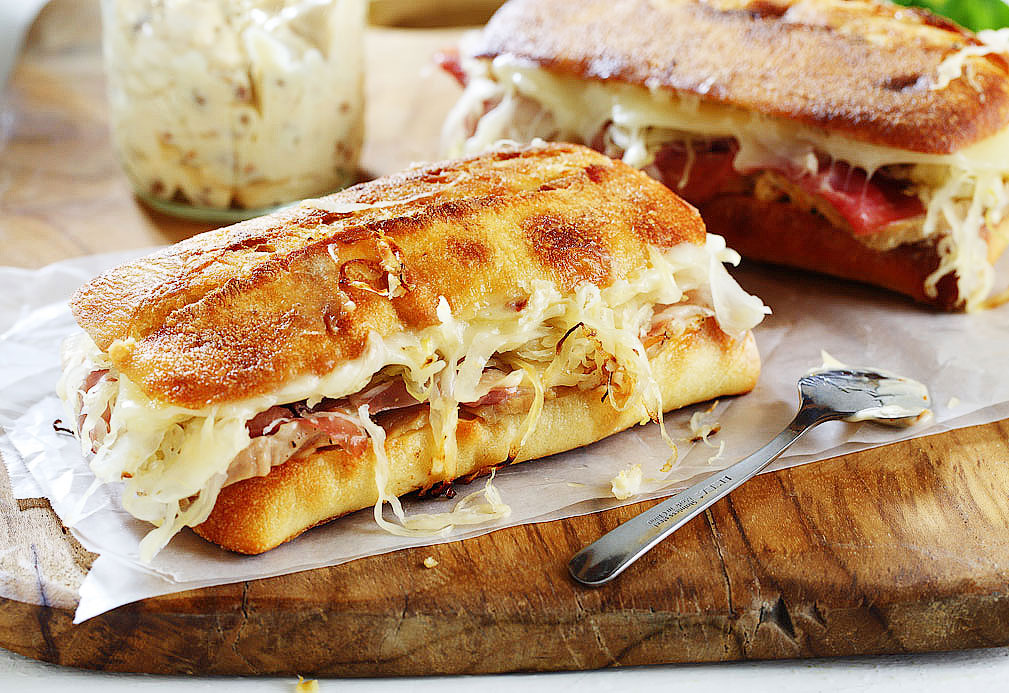 Ingredients
1/2 cup sun-dried tomato canola mayonnaise
8 crusty rolls
1 lb roast pork loin, sliced thin
1/4 lb serrano ham, sliced paper thin
1/4 lb Gruyère cheese
2 cups sauerkraut
2 Tbsp canola oil
clean brick, wrapped in foil
Instructions
1. Preheat a stove top griddle over medium-high heat.
2. Spread the mayonnaise all over the rolls and place the pork, ham, cheese and sauerkraut on the bottoms. Press the sandwiches together.
3. Put about 1 tablespoon of canola oil on the hot griddle and spread to coat. Put 1 sandwich at a time on the griddle, and top with the brick. Toast sandwiches on the griddle, turning once, until golden, hot, and cheese is melted, 2 or 3 minutes per side.
Yield
8 sandwiches
serving size
1 sandwich
nutritional analysis
Calories
410
Total Fat
23 g
Saturated Fat
5 g
Cholesterol
75 mg
Carbohydrates
22 g
Fiber
2 g
Sugars
1 g
Protein
27 g
Sodium
760 mg
Potassium
309 mg