Curried Lentils and Vegetables
A simple, yet richly flavored dish. Enjoy on its own or over warm quinoa, brown rice or millet. Make lentils a regular part of your meals for quality protein and a good source of fiber. Try this recipe with different vegetables such as cauliflower, bell peppers, celery or broccoli.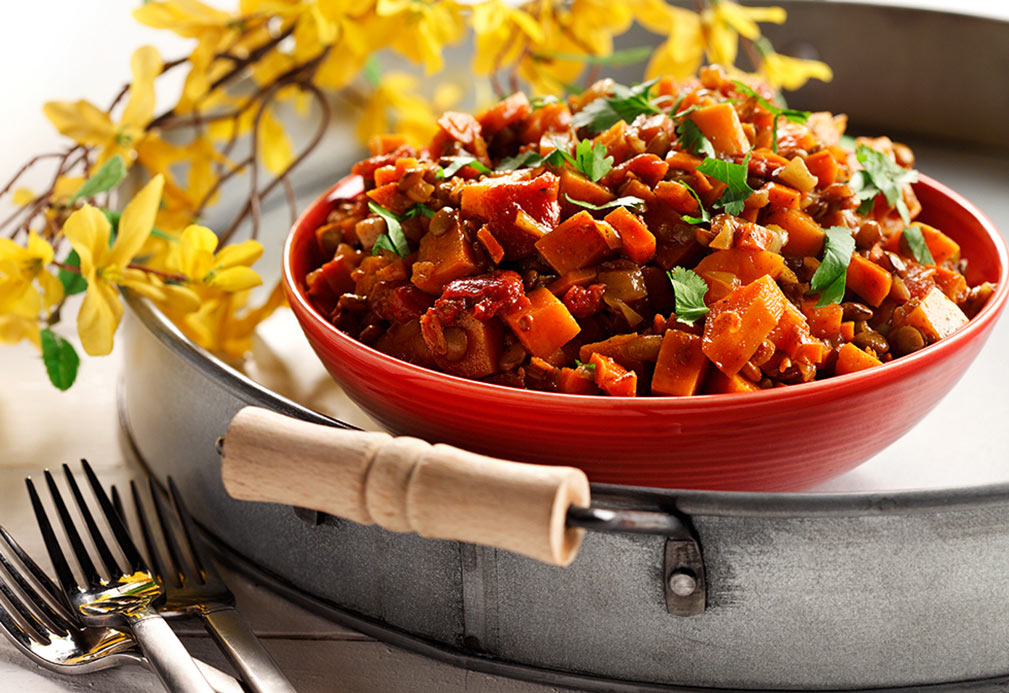 Ingredients
2 Tbsp canola oil 30 mL
1 medium onion, minced
2 cloves garlic, minced
2 tsp curry powder 10 mL
1 tsp ground cinnamon 5 mL
½ tsp ground cloves 2 mL
½ tsp dried thyme 2 mL
1 cup water 250 mL
½ cup dried green lentils, rinsed 125 mL
1 cup carrots, peeled and diced 250 mL
1 medium sweet potato, peeled and cubed
1 (14 oz / 398 mL) can low sodium diced tomatoes
1 Tbsp cooking sherry 15 mL
¼ tsp freshly ground pepper 1 mL
chopped cilantro, optional garnish
Instructions
1. In large saucepan with lid, heat canola oil to medium. Add onion and sauté until softened, about 5 minutes. Add garlic, curry powder, cinnamon, cloves and thyme. Stir and cook for about 2 minutes.
2. Add water, lentils, carrots, sweet potato, tomatoes (and their liquid) and sherry. Simmer for about 15 minutes or until vegetables are tender.
3. Season to taste with pepper and garnish with cilantro, if using. Serve.
Yield
4 servings
serving size
2/3 cup (150 mL) 
nutritional analysis
Per Serving
Calories
150
Total Fat
5 g
Saturated Fat
0 g
Cholesterol
0 mg
Carbohydrates
22 g
Fiber
5 g
Sugars
5 g
Protein
5 g
Sodium
210 mg
Potassium
313 mg