Easy Curried Chicken with Potatoes
Chicken and potatoes simmered in tomatoes, onion and spice make this a hearty stew.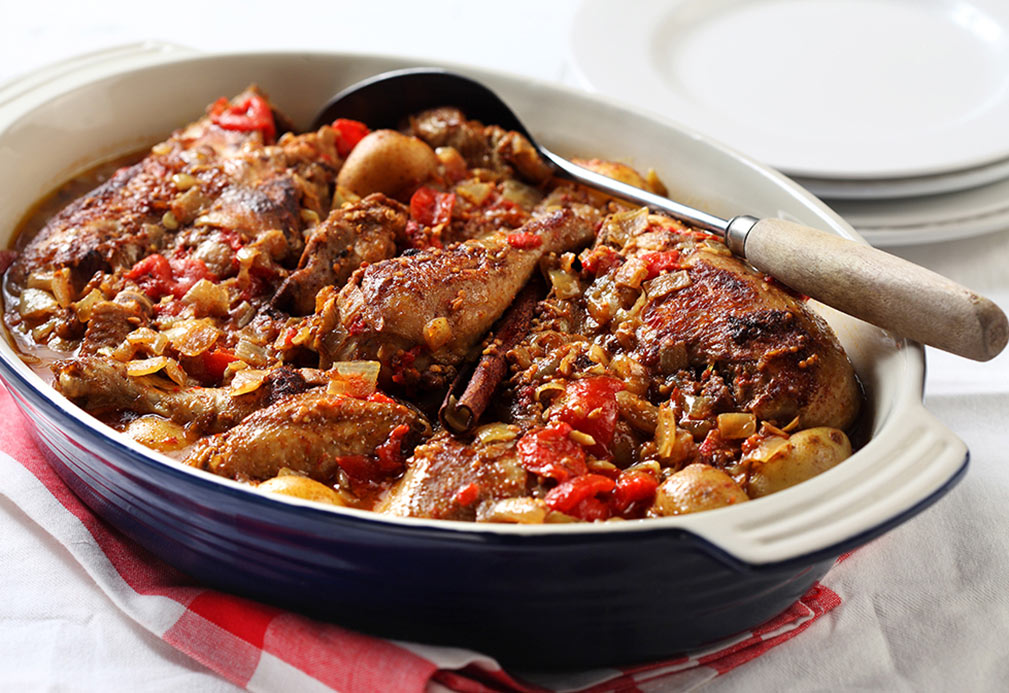 Ingredients
1/4 cup white wine vinegar 60 mL
3 cloves garlic, minced
2 Tbsp chopped fresh ginger 30 mL
1 Tbsp curry powder 15 mL
1 tsp ground cumin 5 mL
1/2 tsp ground cardamom 2 mL
1/4 tsp ground cloves 1 mL
1/4 tsp red pepper flakes 1 mL
2 tsp mustard seeds 10 mL
1 tsp ground coriander 5 mL
2 lbs chicken pieces 1kg
1/4 cup canola oil 60 mL
2 large onions, chopped 2
1 (28 oz/796 mL) can diced tomatoes 1
1 cinnamon stick
salt and pepper to taste
12 baby yellow potatoes
1/4 cup chopped cilantro 60 mL
Instructions
1. Combine vinegar, garlic, ginger, curry powder, cumin, cardamom, cloves, red pepper flakes, mustard seeds and ground coriander in food processor or blender. Blend until smooth. Place mixture in large bowl. Add chicken and 2 Tbsp (30 mL) canola oil and toss to coat chicken well. Set aside.
2. Heat remaining 2 Tbsp (30 mL) canola oil in large saucepan over medium high heat. Add onions and saute until golden, about 7 minutes. Add chicken pieces and cook until lightly browned, turning pieces once, about 5 to 7 minutes. Add tomatoes, cinnamon stick, salt and pepper and potatoes. Bring to a boil. Reduce heat, cover and simmer until chicken is cooked through, about 20 to 30 minutes. Remove cinnamon stick. Serve chicken and potatoes in soup bowls and garnish with chopped cilantro.
Yield
6 to 8 servings
serving size
nutritional analysis
Per Serving
Calories
290
Total Fat
11 g
Saturated Fat
1.5 g
Cholesterol
65 mg
Carbohydrates
20 g
Fiber
4 g
Protein
27 g
Sodium
550 mg