Dandoy Cookies
Brussels is home to a bakery called Maison Dandoy that makes molded "speculoos" (gingerbread) cookies, which are a local tradition. Here is a dropped cookie version made with canola oil, which helps produce a chewy result and keeps saturated fat to a minimum.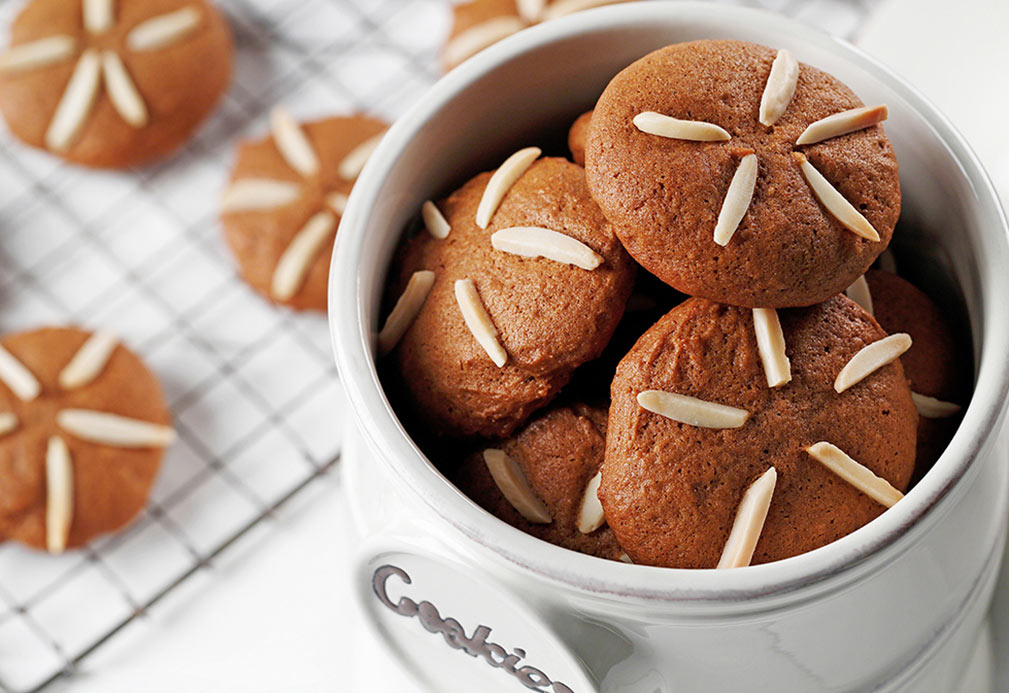 Ingredients
2 3/4 cups all-purpose flour 675 mL
1 tsp ground ginger 5 mL
1 tsp cinnamon 5 mL
1/2 tsp baking soda 2 mL
1/2 tsp salt 2 mL
1/2 tsp ground nutmeg 2 mL
1/2 tsp ground cloves 2 mL
3/4 cup molasses 175 mL
1/2 cup canola oil 125 mL
1/2 cup brown sugar, packed 125 mL
1 egg, beaten
4 oz slivered almonds 125 g
Instructions
1. Preheat oven to 375 °F (190 °C). Line two baking sheets with parchment paper. Set aside.
2. In large mixing bowl, whisk flour, ginger, cinnamon, baking soda, salt, nutmeg and cloves. Set aside.
3. In large saucepan over low heat, blend molasses, canola oil and brown sugar. Heat until sugar dissolves and sides bubble.
4. In mixer with paddle attachment on medium speed, place sugar mixture and add egg. Then add flour mixture in three parts to form dough.
5. Drop 1 Tbsp (15 mL) of dough per cookie on baking sheet (about 12 per sheet). Press dough down with palm of your hand. Decorate top of dough with almonds.
6. Bake until firm to touch, about 10 to 12 minutes. Let cool on pan 10 minutes before removing to rack to cool completely.
Yield
24 cookies
serving size
1 cookie
nutritional analysis
Per Serving
Calories
110
Total Fat
5 g
Saturated Fat
0 g
Cholesterol
5 mg
Carbohydrates
15 g
Fiber
1 g
Sugars
7 g
Protein
2 g
Sodium
55 mg
Potassium
139 mg