Pulled Pork with Smoked Paprika Lime Oil
Bring the flavors of Mexico into your kitchen. This easy-to-make dish of tender pork over warmed tortillas is topped with a citrus oil of smoked paprika, lime and garlic and finished with a sprinkling of pungent cilantro. Canola oil does double duty here: its high heat tolerance is perfect for browning the pork and its neutral taste lets the flavors of other ingredients shine.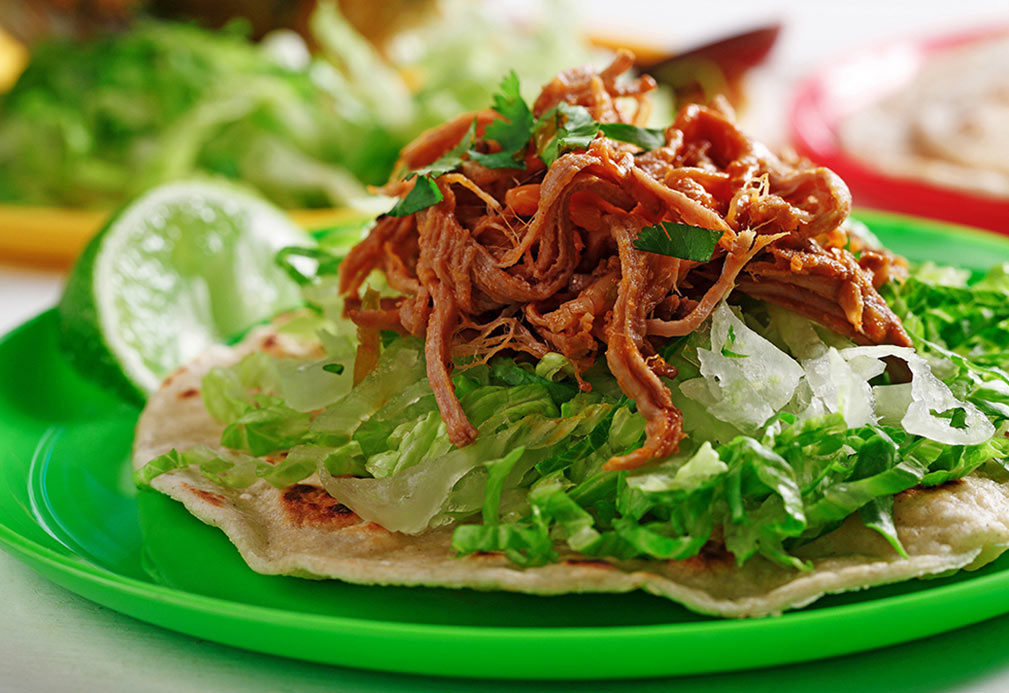 Ingredients
Pulled Pork
1 lb pork tenderloin 500 g
1 1/2 tsp ground cumin 7 mL
1/4 tsp salt 1 mL
1/4 tsp ground black pepper 1 mL
2 tsp canola oil 10 mL
1 medium red onion, cut into 12 wedges
1 medium jalapeno, seeded and minced
1/2 cup water 125 mL 
Smoked Paprika Lime Sauce
1 Tbsp canola oil 15 mL
2 Tbsp fresh lime juice 30 mL
1 medium garlic clove, minced
1 tsp smoked paprika 5 mL
1/4 tsp salt 1 mL
Assembly
8 soft corn tortillas
4 cups shredded lettuce 1 L
1/4 cup chopped fresh cilantro 60 mL
1 medium lime, cut into 8 wedges 
Instructions
1. Sprinkle pork with cumin, salt and pepper. In skillet, heat 2 tsp (10 mL) canola oil over medium-high heat. Brown pork for 2 minutes, turn and cook other side for 2 minutes.
2. In slow cooker, add onion, jalapeno and water. Add pork and cook 3 1/2 hours on high setting or 7 hours on low setting or until pork is fork tender.
3. Meanwhile, in small bowl, whisk together all ingredients for Smoked Paprika Lime Sauce. Set aside.
4. Transfer pork to cutting board, leaving onion mixture in slow cooker. Let pork stand 3 minutes. Shred meat using two forks and stir back into onion mixture.
5. Warm tortillas according to package directions. Top with equal amounts of shredded lettuce and pulled pork. Stir paprika mixture and spoon evenly over tortillas and top with cilantro. Serve with lime wedges.
Yield
4 servings (3 cups/750 mL) pulled pork and ¼ cup/60 mL sauce)
serving size
2 tortillas and 3/4 cup (175 mL) pulled pork and 1 Tbsp (15 mL) sauce
nutritional analysis
Per Serving
Calories
320
Total Fat
10 g
Saturated Fat
1,5 g
Cholesterol
75 mg
Carbohydrates
30 g
Fiber
2 g
Sugars
3 g
Protein
27 g
Sodium
400 mg
Potassium
643 mg