Chicken and Mango in a Warm Coconut Sauce
A different and delightful way to enjoy mango. If desired, cubes of pre-roasted squash or pumpkin can be used in place of the mango.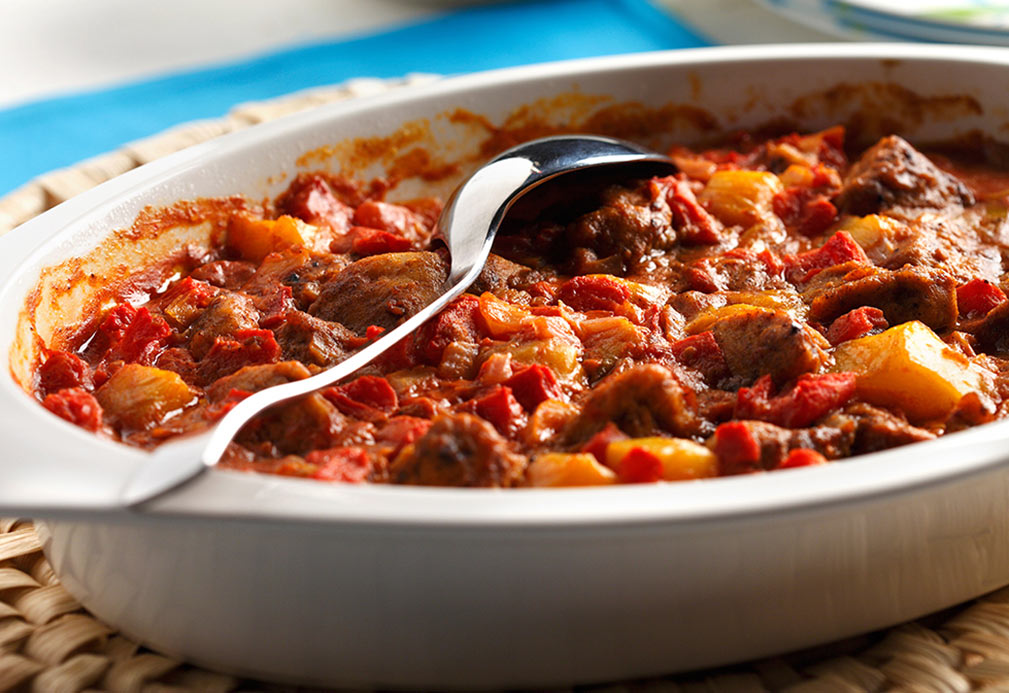 Ingredients
2 Tbsp all-purpose flour 30 mL
1 Tbsp Spanish paprika 15 mL
1 Tbsp pumpkin pie spice 15 mL
1/8 tsp cayenne pepper or crushed red chili flakes 0.5 mL
4 chicken breasts, boneless, skinless, cubed
2 Tbsp canola oil 30 mL
½ cup diced red onion 125 mL
1 (14 oz /398 mL) can light coconut milk
1 (14 oz /398 mL) can diced, unsalted tomatoes
1 cup mango chunks, fresh or frozen, thawed 250 mL
Instructions
1. Preheat oven to 350 °F (180 °C).
2. In a large zip seal bag, combine flour, paprika, pumpkin pie spice and cayenne pepper or red chili flakes. Shake to mix well. Add chicken, about ¼ at a time and shake to coat.
2. In a large oven-safe saucepan, heat canola oil over medium-high heat. Add chicken and brown for approximately 5 minutes per side. Remove chicken from pan.
3. Add onions and cook for about 3 minutes or until just softened. Add coconut milk, tomatoes, mango and return chicken to oven safe saucepan.
4. Bake for 25 minutes. Serve on its own or with steamed rice.
Yield
6 servings
serving size
1 cup (250 mL)
nutritional analysis
Per Serving
Calories
180
Total Fat
9 g
Saturated Fat
3.5 g
Cholesterol
30 mg
Carbohydrates
13 g
Fiber
2 g
Sugars
8 g
Protein
13 g
Sodium
45 mg
Potassium
150 mg