Grill Pan Chicken with Fiery Mango Ginger Salsa
This dish offers a medley for flavors. Using salsa in place of more salt lowers the sodium content and boosts taste! See the recipe video below.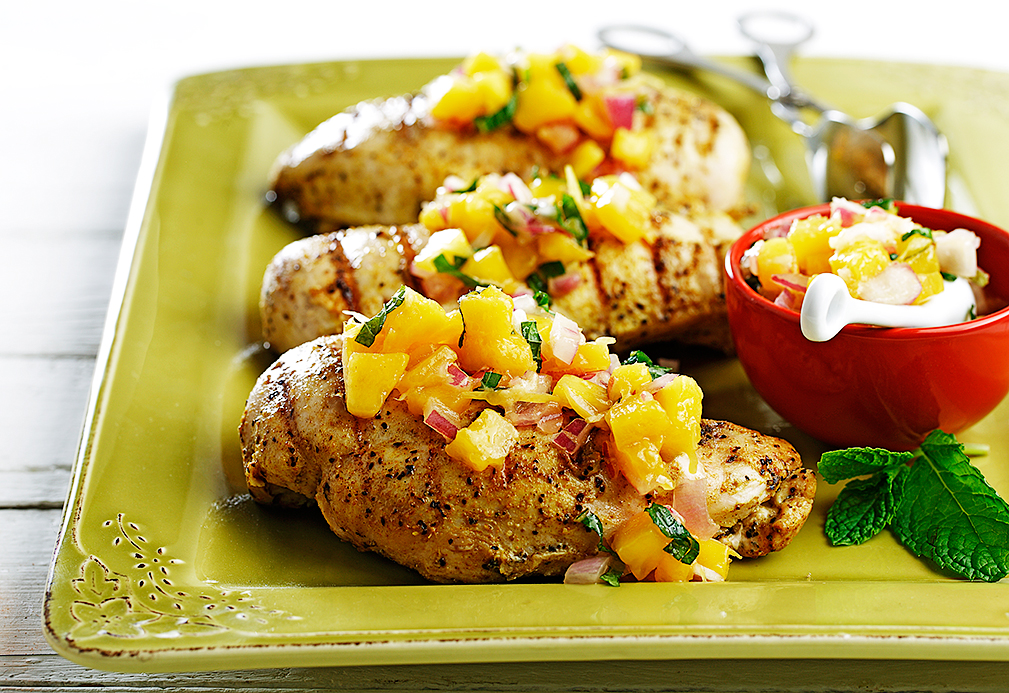 Ingredients
1 Tbsp canola oil 15 mL
1 tsp curry powder 5 mL
1 tsp granulated sugar 5 mL
1/2 tsp coarsely ground black pepper 2 mL
1/4 tsp salt 1 mL
4 boneless, skinless chicken breast halves (4 ounces each), rinsed, patted dry, and flatted to 1/2 inch thickness
canola oil cooking spray
1 lemon, cut into quarters
Salsa
1 cup finely chopped mango 250 mL
2 to 3 Tbsp chopped fresh mint leaves 30 to 45 mL
1 tsp grated fresh ginger 5 mL
2 Tbsp finely chopped red onion 30 mL
1/2 tsp lemon zest 2 mL
1 Tbsp fresh lemon juice 15 mL
1 tsp canola oil 5 mL
Instructions
1. Combine 1 Tbsp (15 mL) canola oil, curry powder, sugar, pepper and salt. Brush over chicken and let marinate for 15 minutes.
2. Meanwhile, in small bowl, stir together salsa ingredients.
3. Coat grill pan with cooking spray and place over medium-high heat until hot. Add chicken, discarding any marinade. Cook chicken 4 minutes on each side or until no longer pink inside and juices run clear. Transfer to serving platter. Squeeze lemon juice over chicken; serve with salsa.
Yield
4 servings
serving size
1 chicken breast and 1/4 cup (60 mL) salsa
nutritional analysis
Per Serving
Calories
205
Total Fat
7 g
Saturated Fat
1 g
Cholesterol
65 mg
Carbohydrates
11 g
Fiber
1 g
Protein
25 g
Sodium
175 mg