Mango Banana Phyllo Nests
This show stopping dessert will win you compliments every time you serve it. Canola oil helps keep it light-tasting.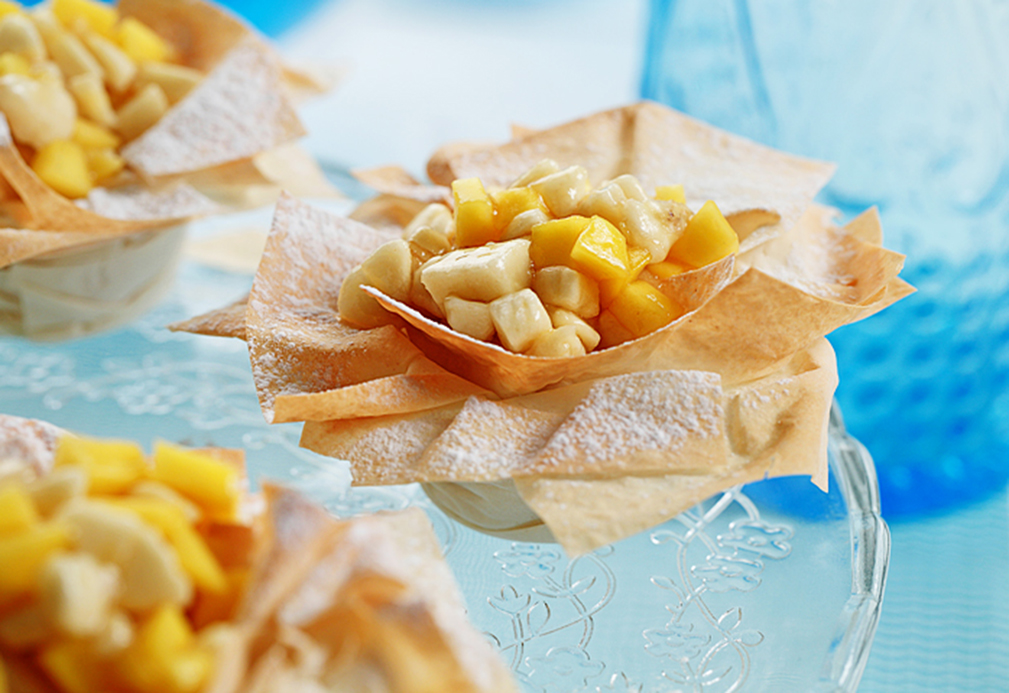 Ingredients
Crust
1 Tbsp canola oil 15 mL
6 sheets frozen phyllo dough, thawed
Filling
1 1/2 tsp canola oil 7 mL
2 Tbsp packed brown sugar substitute blend 30 mL
1 Tbsp orange juice 15 mL
1 ripe mango, peeled, seeded, and diced
1 medium banana, peeled, quartered lengthwise, and diced
Topping
2 Tbsp confectioner's sugar 30 mL
1/4 cup dark rum (optional) 60 mL
Instructions
1. Preheat oven to 350 °F (180 °C). Using 1 Tbsp (15 mL) canola oil, lightly brush one side of each phyllo sheet. Cut each sheet with sharp knife into four lengthwise strips and then cut each strip in half to make eight squares per sheet.
2. In six alternating cups of 12 cup muffin pan, place eight squares of phyllo per cup, corners overlapping in the center. (There is not enough room to fill all 12 cups; 6 is manageable.) Press down gently to allow bottoms to take shape of muffin cup. Ruffle edges to create nest appearance. Repeat with remaining five whole phyllo sheets. Place on a center oven rack, and bake 5 minutes or until golden. Remove from oven, and place muffin tins on wire rack to cool completely.
3. Meanwhile, in medium bowl, combine remaining 1 1/2 tsp (7 mL) canola oil, brown sugar, and orange juice. Add mango and banana, and toss gently, yet thoroughly, to coat.
4. To serve, place phyllo nests on individual dessert plates, spoon equal amounts of mango mixture, about 1/3 cup (75 mL), into each nest. Place confectioner's sugar in fine-mesh sieve and sprinkle evenly over edges of each nest. Spoon 2 tsp (10 mL) rum over each. Serve immediately.
Tip: The nests may be prepared 24 hours in advance. Store them carefully in several gallon-size, resealable plastic bags at room temperature. Do not fill the nests with the fruit mixture until the time of serving.
 
Yield
6 servings
serving size
1 phyllo nest.
nutritional analysis
Per Serving
Calories
175
Total Fat
4.5 g
Saturated Fat
0.3 g
Cholesterol
0 mg
Carbohydrates
33 g
Fiber
2 g
Protein
2 g
Sodium
95 mg