Edamame Fried Rice
Soybeans are a great source of protein, fiber, iron, B vitamins and other essential nutrients. Adding soy beans to this simple fried rice recipe gives great texture and color!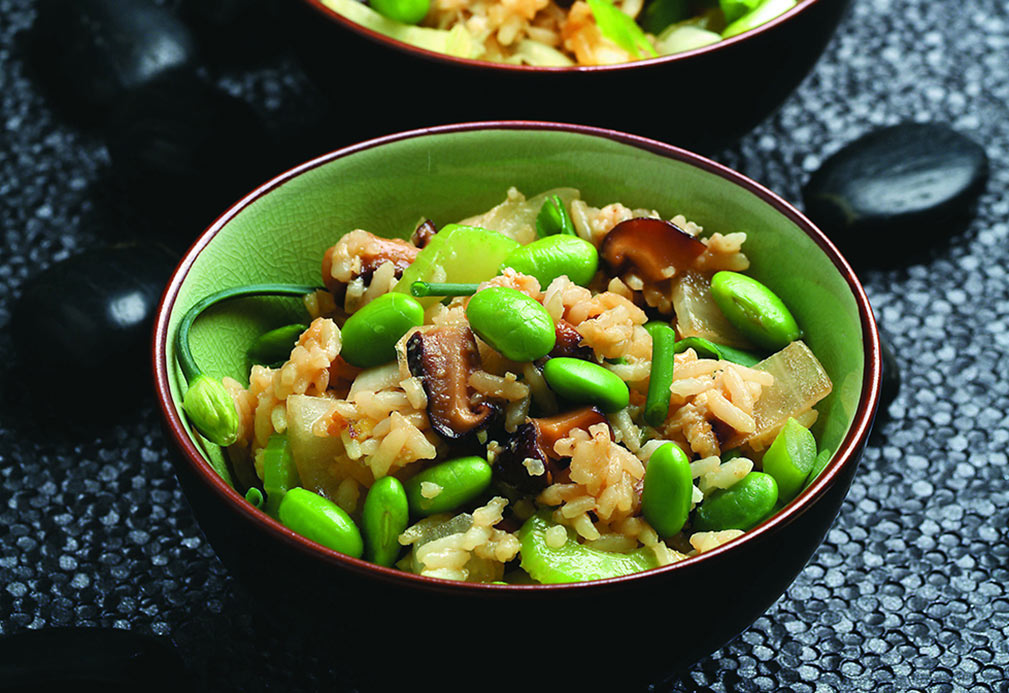 Ingredients
1 1/2 cups shelled soybeans, thawed if frozen 375 mL
2 Tbsp canola oil 30 mL
3 cloves garlic, finely chopped
1 tsp finely chopped ginger 5 mL
1 small onion, coarsely chopped
2 stalks celery, finely chopped
6 to 8 dried Chinese mushrooms, rehydrated, stems removed and fine diced
5 cups cold cooked long grain rice 1.18L
1 Tbsp oyster sauce 15 mL
1 Tbsp sodium reduced soy sauce 15 mL
1 Tbsp dark soy sauce 15 mL
3 Tbsp chicken broth or water 45 mL
2 eggs, lightly beaten
3 to 4 green onions, chopped into 1/4-inch pieces
Instructions
1. If using soybeans in the pods, bring a saucepan filled with water to a boil. Add the pods and cook until tender crisp, about 3 minutes, drain under cold water; remove beans from pods and discard pods. If using shelled soybeans, add straight to the boiling water and cook for about 2 minutes, drain and set aside.
2. Place a non-stick skillet or wok over high heat, add canola oil and swirl until the pan is coated. Add the garlic, ginger, onion and celery and saute for about 15 seconds. Add the mushrooms and rice and stirfry separating the grains. Stir in the soybeans and cook until the rice is heated through. Add the sauces and broth or water and stirfry to mix well. Make a well in the center of the rice and add the eggs and gently stir until the eggs settle, about 1 minute. Saute well to mix the egg into the rice. Mix in the green onions and serve.
Yield
4 servings
serving size
nutritional analysis
Per Serving
Calories
440
Total Fat
14 g
Saturated Fat
2 g
Cholesterol
105 mg
Carbohydrates
63 g
Fiber
3 g
Protein
16 g
Sodium
540 mg