Eggplant in Spicy Garlic Sauce
Chili garlic sauce is a common ingredient in Chinese markets. It has the consistency of a thick puree and gives intense heat and flavor to any dish especially cooked with additional fresh garlic and ginger. This classic Szechwan dish is delicious served hot, at room temperature or chilled, hot and spicy with the sweetness from the pork. Chinese or Asian eggplant is slender and sweeter and less bitter than the traditional globe shaped Western variety.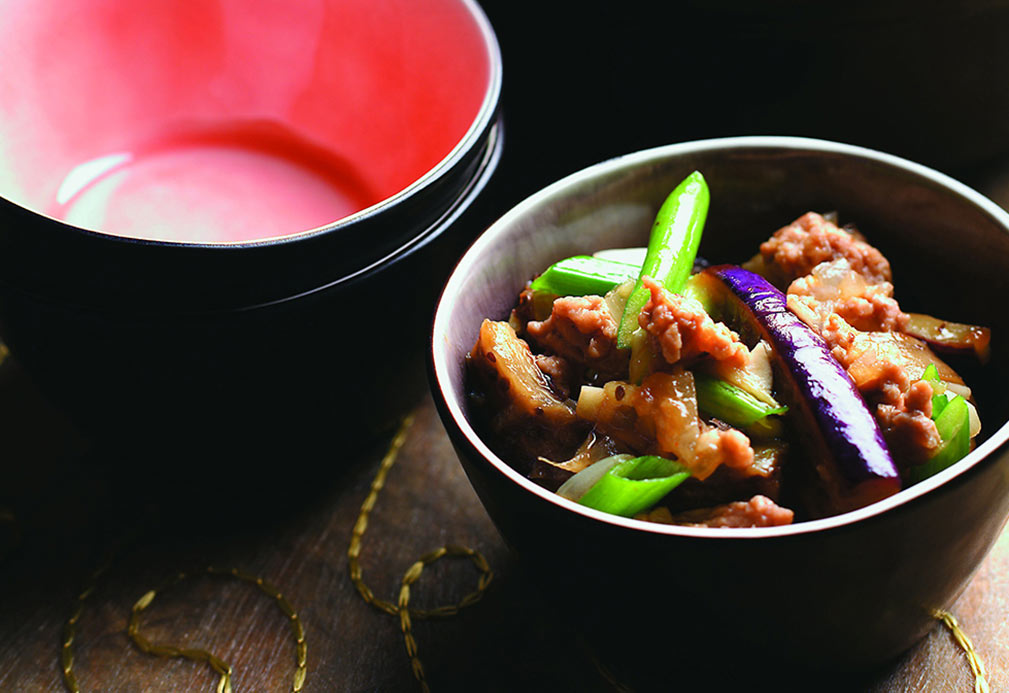 Ingredients
3 medium Chinese eggplant, about 1 lb (500g)
3 Tbsp chili garlic sauce 45 mL
1 Tbsp sodium reduced soy sauce 15 mL
2 Tbsp Chinese red rice vinegar 30 mL
2 Tbsp Shao Hsing rice cooking wine or dry sherry 30 mL
1 Tbsp granulated sugar 15 mL
2/3 cup cold water 150 mL
7 Tbsp canola oil 105 mL
1/3 lb lean ground pork 151g
1/2 small cooking onion, finely chopped
2 Tbsp finely minced garlic 30 mL
2 Tbsp finely minced ginger 30 mL
1/2 cup chopped green onion 125 mL
Instructions
1. Remove the stem and trim the ends from the eggplants. Cut unpeeled eggplants into 1/2-inch by 2 1/2-inch strips. In a small bowl mix together the garlic chili sauce, soy sauce, red vinegar, rice wine, sugar and water.
2. Heat a large 14-inch flat bottom wok or skillet over high heat until hot but not smoking. Add 3 Tbsp (45 mL) canola oil and half the eggplant, stirfry for 2 minutes or until some of the eggplant starts to brown and soften. Transfer to a warm plate and repeat with the remaining eggplant and 3 Tbsp (45 mL) of the oil, transferring to the plate with the first batch.
3. Add the remaining 1 Tbsp (15 mL) of canola oil and heat the wok to high. Add the pork, onion, garlic and ginger and stirfry about 1 minute or until golden and fragrant. Return the eggplant to the wok. Re-stir the chili sauce mixture and add to the wok. Bring to a boil over high heat. Reduce heat to medium, cover and cook 5 to 8 minutes or until the eggplant is just tender. Stir in green onions and serve.
Yield
6 servings as part of a multi-course dinner.
serving size
nutritional analysis
Per Serving
Calories
260
Total Fat
22 g
Saturated Fat
3 g
Cholesterol
20 mg
Carbohydrates
12 g
Fiber
2 g
Protein
6 g
Sodium
260 mg