Roasted Eggplant with Tomatoes and Fresh Basil
Roasting eggplant imparts a smoky, nutty flavor and a silky, smooth texture. This simple side dish is delicious served alone, as part of a salad, tossed with pasta or over French bread. Add a thick slice of fresh mozzarella for a protein-rich indulgence. Canola oil is ideal for roasting at high temperatures.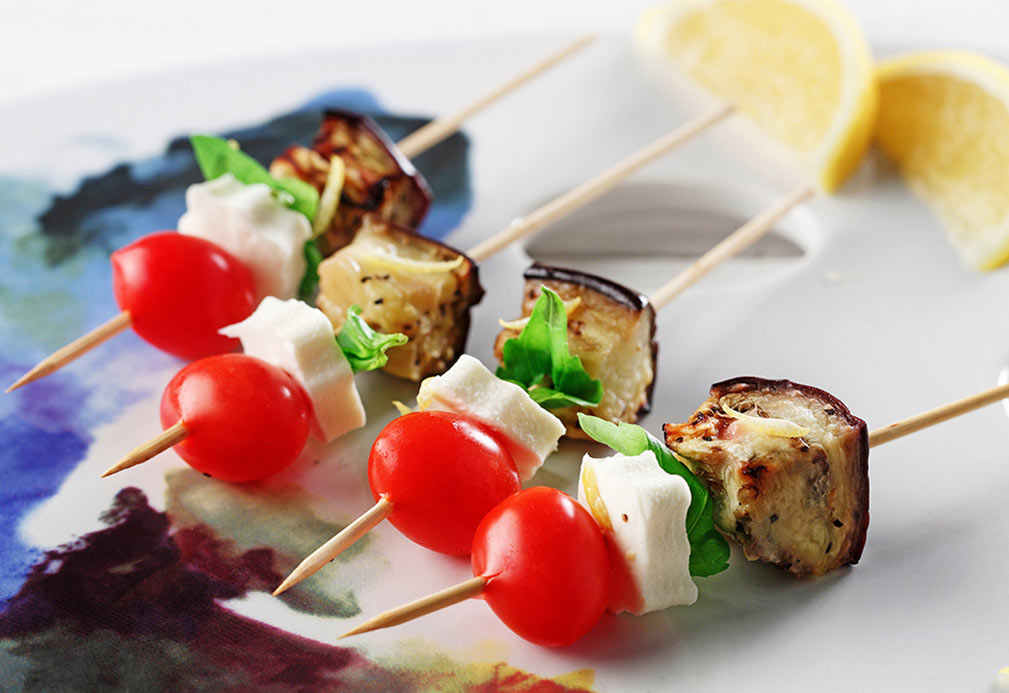 Ingredients
1 medium globe eggplant (about 1 lb/500 g)
1 Tbsp fresh lemon juice 15 mL
2 Tbsp canola oil 30 mL
1/2 tsp salt 2 mL
1/4 tsp ground black pepper 1 mL
canola oil cooking spray
12 grape or teardrop tomatoes, cut in half lengthwise
1/2 tsp finely minced lemon zest 2 mL
8 to 10 large fresh basil leaves, torn into pieces
Instructions
1. Preheat oven to 450 °F (232 °C) along with large, rimmed baking sheet.
2. Trim unpeeled eggplant and cut into 1-inch cubes. Toss with lemon juice and then with canola oil. Season with salt and pepper.
3. Remove pan from oven and coat well with canola oil cooking spray. Pour eggplant onto pan, spreading in single layer. Roast until dark golden brown and cooked completely through, about 20 to 25 minutes.
4. To serve as side dish, transfer eggplant to bowl to cool slightly. Toss with tomatoes, lemon zest and basil. Serve warm or at room temperature. Or serve as appetizers by skewering eggplant and tomatoes onto wooden skewers with small piece of cheese like mozzarella.
Yield
4 servings
serving size
1/2 cup (125 mL)
nutritional analysis
Per Serving
Calories
110
Total Fat
7 g
Saturated Fat
0.5 g
Cholesterol
0 mg
Carbohydrates
10 g
Fiber
5 g
Sugars
5 g
Protein
2 g
Sodium
130 mg
Potassium
446 mg