Eggplant with Apples, Fennel and Cumin
While pork and apples may seem like a steadfast couple, eggplant does a mean tango here, tapping pork out of the picture and weaving in exciting flavors with fennel, cumin and coriander. The spices breathe assertive aromas into the canola oil and add a vibrancy that will appeal to any palate you aim to please.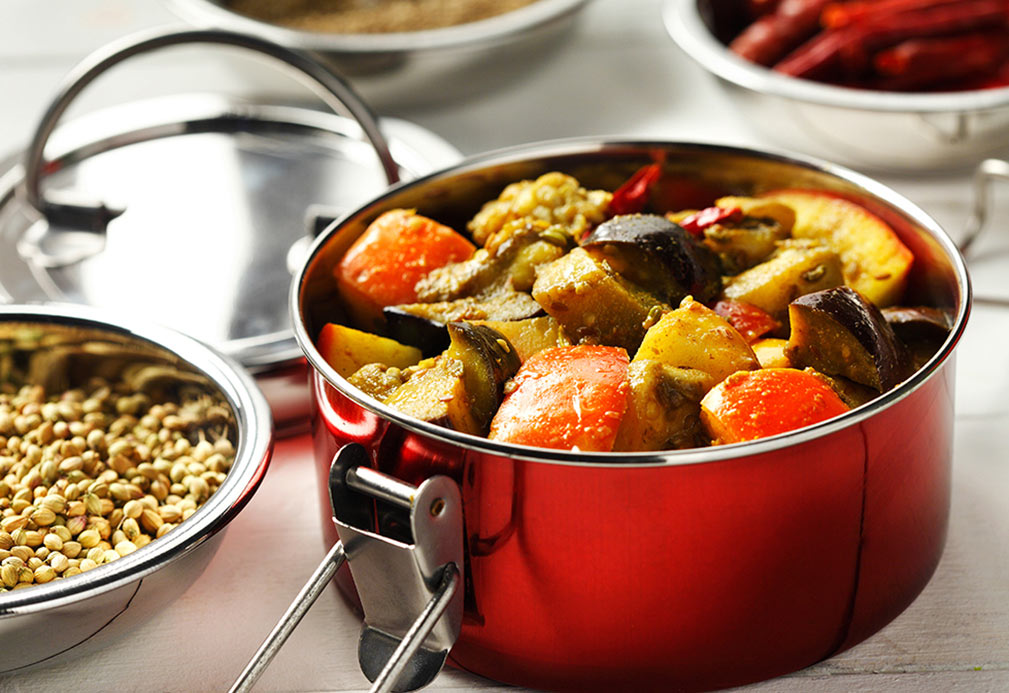 Ingredients
2 Tbsp canola oil 30 mL
2 tsp fennel seeds 10 mL
1 tsp cumin seeds 5 mL
4 dried red Thai or cayenne chiles (like chile de arbol), stems removed
2 small eggplants (about 1/2 lb/250 g each), stems removed, cut into 1-inch (2.5-cm) cubes
2 large tart-sweet apples, cored and cut into 1-inch (2.5-cm) cubes
1/2 tsp coarse kosher or sea salt 2 mL
2 tsp ground coriander seeds 10 mL
1 tsp ground cumin seeds 5 mL
1/2 tsp ground turmeric 2 mL
1/4 cup finely chopped fresh cilantro 60 mL
Instructions
1. In large skillet or wok, heat canola oil over medium-high heat. Sprinkle in fennel seeds, cumin seeds and chiles. Let them sizzle, crackle and smell fragrant for about 10 to 15 seconds. 
2. Immediately add eggplants and apples. Sprinkle with salt, coriander, cumin and turmeric. Stir-fry to coat vegetable-fruit medley with spices and cook ground spices without burning, 2 to 4 minutes.
3. Pour in 1 cup (250 mL) water and stir to release any browned bits from bottom of skillet. Heat to boil. Reduce heat to medium, cover skillet and cook, stirring occasionally, until eggplant is fall-apart tender and apple is slightly firm and very succulent (and usually more tart), about 15 minutes. Sprinkle with cilantro and serve.
Tips: The most common variety of eggplant in North American grocery stores is the Italian-American: dark purple, tough-skinned and bell-shaped. No need to peel or salt them to leach away excess bitterness. In fact, their bitterness offers great balance to this dish. To cut an eggplant, first remove its stem. Then slice it in half lengthwise and cut each half lengthwise again into 1-inch (2.5 cm) slices. Stack two or three slices and cut them, white flesh side up, into 1-inch cubes. (It's easier to slice from the flesh side through the skin as opposed to the other way around.) Try any of the 40 eggplant varieties grown worldwide in this recipe. 
To grind coriander and cumin seeds, place them in a spice or coffee grinder and pulverize until they are the texture of finely ground black pepper.
Yield
8 servings
serving size
1/2 cup (125 mL)
nutritional analysis
Per Serving
Calories
70
Total Fat
4 g
Saturated Fat
0 g
Cholesterol
0 mg
Carbohydrates
9 g
Fiber
4 g
Sugars
5 g
Protein
2 g
Sodium
200 mg
Potassium
340 mg