Banh Mi with Spicy Yuzu Mayo
The baguette was introduced by the French in Vietnam during its Colonial period, therefore, the term "bánh mì" is synonymous with this style of bread. Just add spicy short rib meat and an exotic mayo made with canola oil for a short rib sandwich to remember!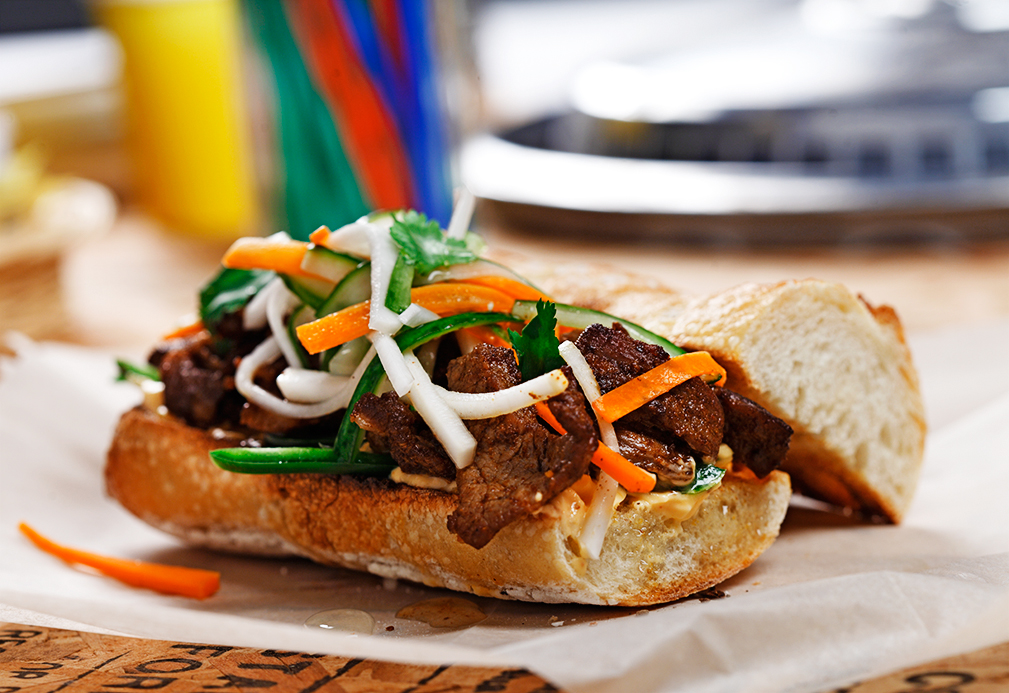 Ingredients
Spicy Yuzu Mayo:
2 1/4 cups canola oil 560 mL
1 cup soy milk 250 mL
1 Tbsp agave nectar 15 mL
3/4 tsp Ponzu* 4 mL
2 tsp Yuzu Juice** 10 mL
1 Tbsp Sriracha (Thai hot sauce) 15 mL
1/2 tsp Dijon mustard 2 mL
Do Chua:
1 1/4 cup white vinegar 310 mL  
1 cup water 250 mL
1 cup sugar 250 mL
1 cucumber, peeled and thinly sliced
1 carrot, peeled and cut into matchsticks
1 jicama, peeled and cut into matchsticks
Short Ribs:
2 lbs boneless short ribs or brisket, thinly sliced 1 kg
3 Tbsp guajillo or ancho chile powder 45 mL
1 Tbsp garlic powder 15 mL
1 Tbsp onion powder 15 mL
1 tsp cayenne powder 5 mL
2 tsp salt 10 mL
1/4 cup canola oil 60 mL
Assemble
8 French baguettes (8 inch/20 cm) (or other crusty bread)
80 cilantro leaves
2 jalapeno peppers, veined and thinly sliced
Instructions
To prepare Spicy Yuzu Mayo: In container, combine all mayo ingredients using immersion blender until an emulsion forms. Store in refrigerator and use within 2-3 days.
To prepare Do Chua: In medium bowl, combine vinegar, water and sugar. Mix until sugar dissolves. Add cucumbers, carrots and jicama. Ensure liquid covers vegetables. Cover and refrigerator for at least 6 hours to marinate.
To prepare Short Ribs: In resealable bag, combine short rib slices with chile powder, garlic, onion, cayenne pepper, salt and canola oil. Let stand overnight in refrigerator. In sauté pan, sauté short ribs strips with spice and canola oil mixture until just cooked through. Stir frequently.
To assemble Banh Mi: Toast baguettes until warm and outside is golden brown and crunchy. Slice baguettes in half so hinged. Spread 1 tbsp (15 mL) of Spicy Yuzu Mayo on inside of each baguette. Place 6 to 8 slices of jalapenos on top of mayo. Divide meat between baguettes. Divide Do Chua between baguettes and place on top of beef. Top with 10 cilantro leaves. Serve with plenty of napkins!
Note:
* Ponzu is a citrus and soy-based sauce commonly used in Japanese cooking. It can be purchased in Asian grocery stores or there are recipes for it on the Internet. A simple substitution would be soy sauce equally mixed with lime or grapefruit juice.
** Yuzu juice comes from a Japanese citrus fruit that is about the size of a tangerine and has a sour flavor. You can substitute it with lime, lemon or white grapefruit juice.
Yield
8 Servings
serving size
1 baguette (8 inches/20 cm), 4 oz (125 g) beef, 1/2 cup (125 mL) Do Chua and 2 Tbsp (30 mL) Spizy Yuzu Mayo.
nutritional analysis
Per Serving
Calories
740
Total Fat
36 g
Saturated Fat
6.5 g
Cholesterol
65 mg
Carbohydrates
76 g
Fiber
11 g
Sugars
11 g
Protein
58 g
Sodium
125 mg
Potassium
720 mg