Shrimp Cocktail with Lemon Mint Pesto
Shrimp cocktail is a can''t-miss crowd pleaser, but when paired with a lemony mint pesto and served individually in shot glasses, this simple pleasure is elevated to something truly elegant and special. The pesto is a breeze to make and using canola oil makes it low in saturated fat and lets the clean, clear flavors of the lemon and mint really shine through.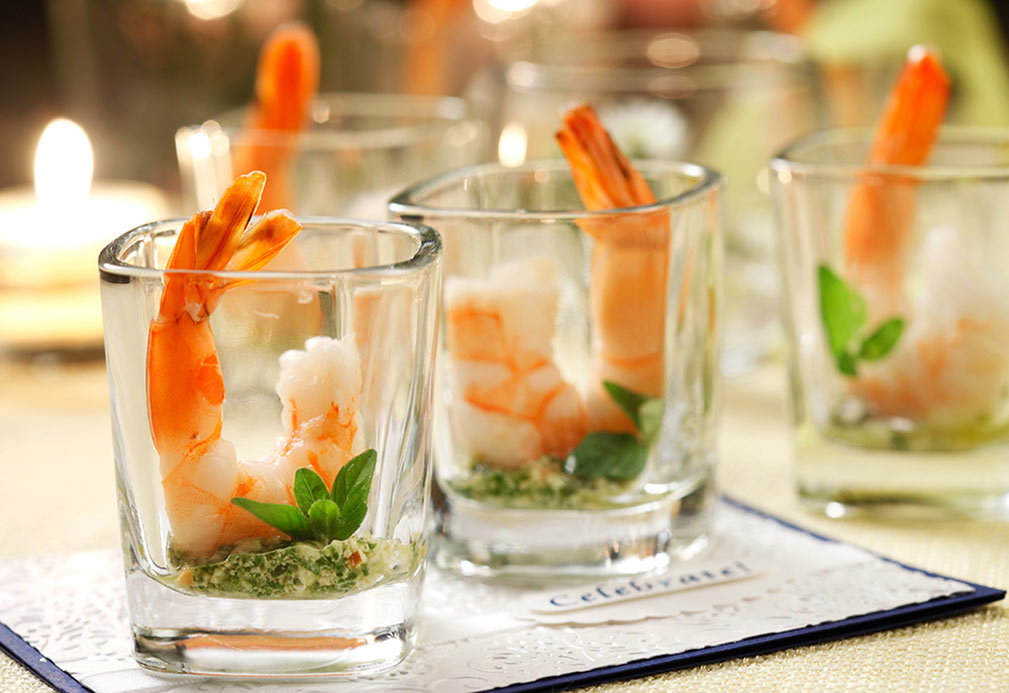 Ingredients
1 lb large raw shrimp, peeled and deveined, tails on (about 32 shrimp) 500 g
1/4 cup pine nuts 60 mL
1 1/2 cups packed fresh mint leaves 375 mL
2 Tbsp fresh lemon juice 30 mL
1 small clove garlic, finely minced
3 Tbsp canola oil 45 mL
1/4 tsp freshly ground black pepper 1 mL
Instructions
1. Bring large pot of water to boil. Add shrimp, return to boil, then cook until shrimp are pink and just cooked through, 3-4 minutes. Drain and place in refrigerator to chill completely, at least 2 hours and up to one day.
2. In dry skillet, toast pine nuts over medium-high heat, stirring frequently, until golden and fragrant, about 2 minutes. Set aside to cool slightly.
3. In food processor, place mint, lemon juice, garlic and pine nuts and process until chopped, stopping to scrape sides down once or twice as needed. With processor running, drizzle in canola oil. Add black pepper and pulse a few times to combine. Pesto may be made up to three days ahead and stored in airtight container in refrigerator.
4. To serve, place about 1 teaspoon (5 mL) sauce in each of 32 shot glasses, then set one shrimp on top of sauce in each glass.
Yield
32 servings
serving size
1 shrimp and 1 tsp (5 mL) pesto
nutritional analysis
Per Serving
Calories
60
Total Fat
4.5 g
Saturated Fat
0 g
Cholesterol
25 mg
Carbohydrates
1 g
Fiber
0 g
Protein
2 g
Sodium
100 mg