Cumin and Garlic Scented Lamb Skewers
This grilled spiced kabob is inspired by the popular street vendors of Western China. Traditionally made with lamb, the recipe works with beef or chicken, too. Canola oil helps prevent the meat from sticking to the grill.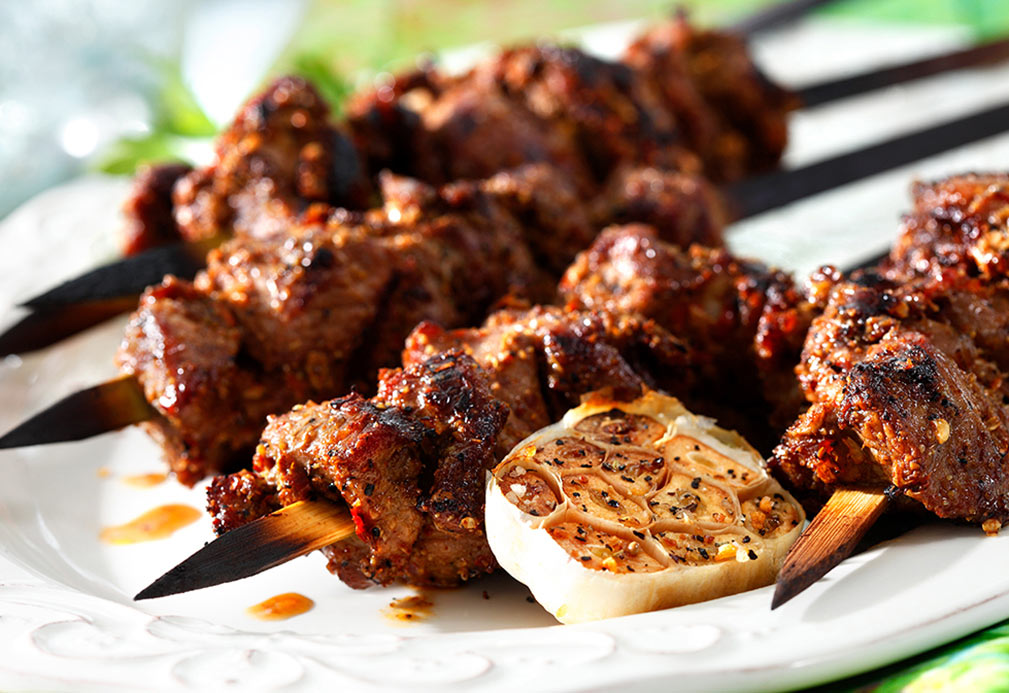 Ingredients
2 Tbsp cumin seeds 30 mL
1 Tbsp dried red pepper flakes 15 mL
6 garlic cloves, finely minced
1 Tbsp finely minced ginger 15 mL
1 tsp ground Szechwan peppercorns 5 mL
1 tsp chili powder 5 mL
1 Tbsp freshly ground black pepper 15 mL
2 tsp sea salt 10 mL
1 1/2 lb lamb shoulder or leg, cut into 1-inch (2.5-cm) cubes 750 g
1/4 cup canola oil 60 mL
bamboo skewers soaked in water overnight
canola oil, for brushing 
Instructions
1. In small, dry frying pan, heat cumin seeds over medium heat until fragrant or until they start to turn golden, about 2 minutes. Remove to cool then place into electric grinder, or mortar and pestle, and grind until fine. Place into mixing bowl and mix together well with rest of spices, garlic, pepper and salt.
2. In another mixing bowl, mix lamb and canola oil until well coated. Add spice mixture and mix well to coat. Cover with plastic wrap and refrigerate for at least 6 hours to overnight. Alternatively, marinate in large, heavy, resealable plastic bag and refrigerate.
3. Skewer four to five pieces of lamb on each skewer. Heat prepared grill or barbecue until medium high to high heat.
4. Brush small amount of canola oil over each skewer and grill, turning frequently, about 6 to 8 minutes, or until desired doneness. 
Tip: One tablespoon (15 mL) of ground cumin may be used in place of cumin seeds. 
 
Yield
8 kabobs
serving size
1 kabob
nutritional analysis
Per Serving
Calories
170
Total Fat
9 g
Saturated Fat
2 g
Cholesterol
55 mg
Carbohydrates
2 g
Fiber
0 g
Sugars
0 g
Protein
18 g
Potassium
279 mg