Honey Cake
A slice of this richly flavored honey and spice cake is perfect for cooler weather. After measuring the canola oil, use the same measuring cup for the honey and it will slide out more easily. Canola oil makes this cake moist and light.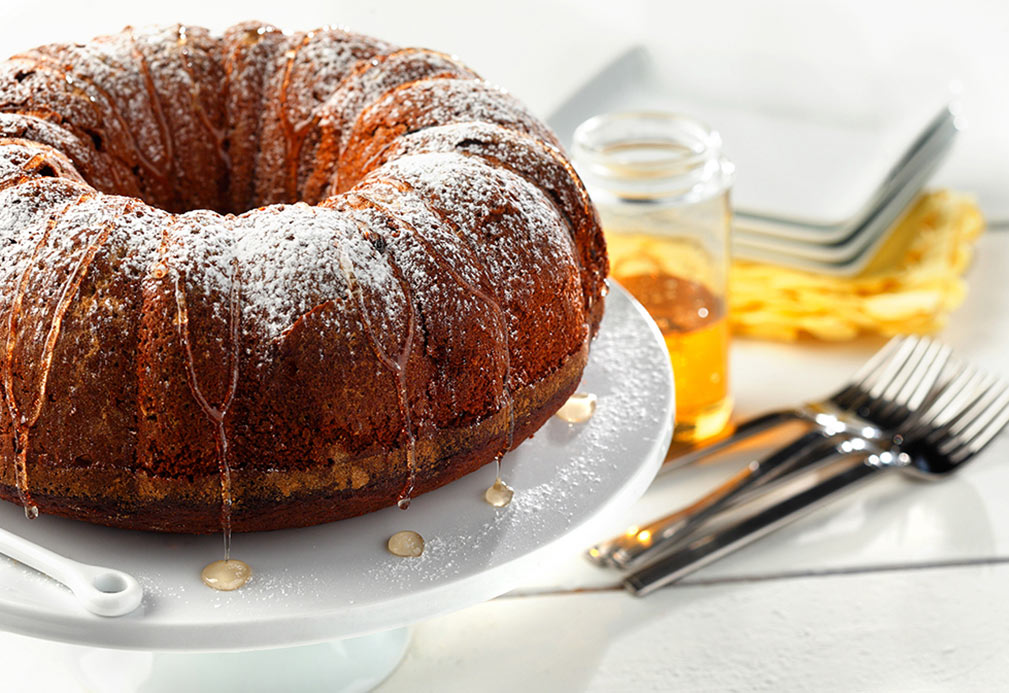 Ingredients
canola oil cooking spray
1 cup sugar 250 mL 
1/2 cup canola oil 125 mL
1 cup raisins or currants 250 mL
1 cup strong black coffee, warm 250 mL
1½ cups honey 375 mL
3 large eggs
3 cups unbleached white flour 750 mL
1/2 tsp baking powder 2 mL
1/2 tsp baking soda 2 mL
1/2 tsp salt 2 mL
1 tsp ground ginger 5 mL
1/8 tsp ground cloves 0.5 mL
1/2 tsp allspice 2 mL
1 tsp ground cinnamon 5 mL
Instructions
1. Preheat oven to 350 °F (180 °C). Spray 10 x 4½-inch (25 x 11 cm) Bundt or tube cake pan with canola oil cooking spray. 
2. In large bowl, cream sugar and oil with electric mixer until well blended. 
3. In medium bowl, add raisins, coffee and honey. Soak for 10 minutes. Add eggs one at a time and beat well after each addition. Add to creamed sugar mixture. 
4. In medium bowl, sift flour, baking powder, baking soda, salt, ginger, cloves, allspice and cinnamon. Stir. 
5. Add dry ingredients to creamed sugar mixture. Beat until just combined. 
6. Pour batter into prepared pan and bake for 50-60 minutes or until toothpick inserted in center comes out clean. Cool cake in pan for 15 minutes. Invert onto wire rack.
Yield
12 slices
serving size
1 slice
nutritional analysis
Per Serving
Calories
450
Total Fat
11 g
Saturated Fat
1 g
Cholesterol
45 mg
Carbohydrates
84 g
Fiber
1 g
Protein
5 g
Sodium
190 mg