French Onion Soup
A perfect starter to serve at your next dinner party! Caramelize the onions first - they are more tender this way!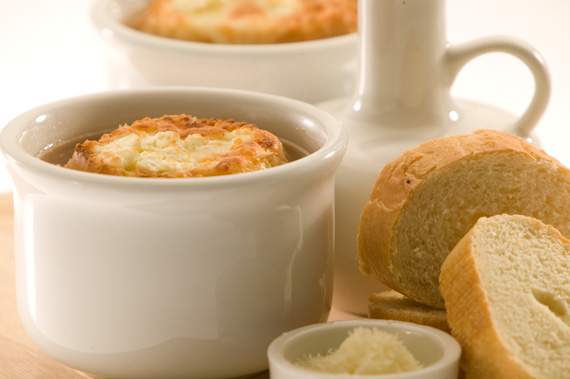 Ingredients
6 medium onions, halved
3 Tbsp canola oil 45 mL
1/2 tsp granulated sugar 2 mL
2 Tbsp all purpose flour 30 mL
8 cups 99% fat free reduced sodium beef broth 2 L
1/2 cup red wine or sherry 125 mL
1 bay leaf
1/4 tsp dried basil 1 mL
1/4 tsp nutmeg 1 mL
salt and freshly ground pepper to taste
8 slices (1 inch) french bread
4 oz chilled mozzarella cheese 125 g
1/2 cup feta cheese 125 mL
1/4 cup grated Parmesan cheese 60 mL
Instructions
1. Slice onions. Heat oil in saucepan and stir in onions. Caramelize, uncovered, on low heat for 25 minutes or until golden brown, stirring often. Stir in sugar and flour and cook for 2 minutes.
2. Prepare a large saucepan with the soup mix, wine, bay leaf, basil, nutmeg, salt and pepper. Simmer for 20 minutes, covered. Add the onion mixture to the broth mixture and stir.
3. Dry bread in oven at 325 °F (160 °C) for about 20 minutes. Grate mozzarella and Parmesan cheese. Pour soup into individual ovenproof bowls. Top each with breadslice. Sprinkle with variety of cheeses. Bake at 350 °F (180 °C) about 15 minutes, then lightly broil to brown cheese. Serve.
Yield
12 servings
serving size
nutritional analysis
Per Serving
Calories
240
Total Fat
8 g
Saturated Fat
2.5 g
Cholesterol
15 mg
Carbohydrates
30 g
Fiber
2 g
Protein
10 g
Sodium
720 mg