Fresh Apple Cake
Nothing exemplifies the fall season quite like the smell and taste of fresh apples. Make the most out of the bounty of the orchard with this fresh apple cake recipe.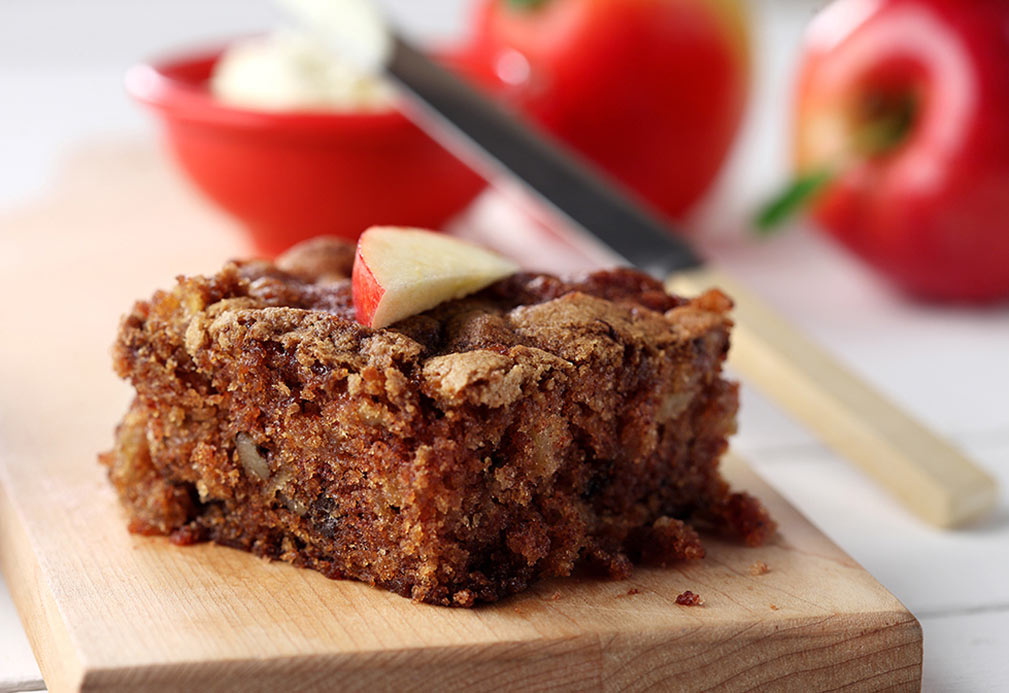 Ingredients
Cake
4 cups chopped fresh apple 1 L
2 cups granulated sugar 500 mL
1 cup canola oil 250 mL
1 cup nuts or raisins 250 mL
2 eggs, beaten
2 tsp vanilla extract 10 mL
2 cups all-purpose flour 500 mL
2 tsp baking soda 10 mL
2 tsp cinnamon 10 mL
1 tsp salt 5 mL
Icing
3 Tbsp non-hydrogenated canola margarine 45 mL
1 package (4 oz/125 g) cream cheese
1 1/2 cups icing sugar 375 mL
1 tsp vanilla 5 mL
Instructions
1. Preheat oven to 350 °F (180 °C). Grease 9 x 13 inch (22 x 33 cm) baking pan.
2. In large bowl, mix together apples and sugar. Add canola oil, nuts, eggs and vanilla; stir well.
3. In another bowl, combine flour, baking soda, cinnamon and salt. Add to egg mixture and mix well. Pour into prepared baking dish and bake for 40 to 45 minutes or until toothpick inserted near center comes out clean. Cool on wire rack.
4. For icing, combine cream margarine and cream cheese together. Add icing sugar and vanilla and beat until well mixed. Ice cake and serve.
Yield
16 servings
serving size
1 slice
nutritional analysis
Per Serving
Calories
430
Total Fat
23 g
Saturated Fat
2.5 g
Cholesterol
30 mg
Carbohydrates
56 g
Fiber
2 g
Protein
4 g
Sodium
360 mg