Fusilli Pasta with Chile Sauce and Black Bean Fennel Relish
This fresh, vibrant pasta will have you bowing to the goodness of vegetables.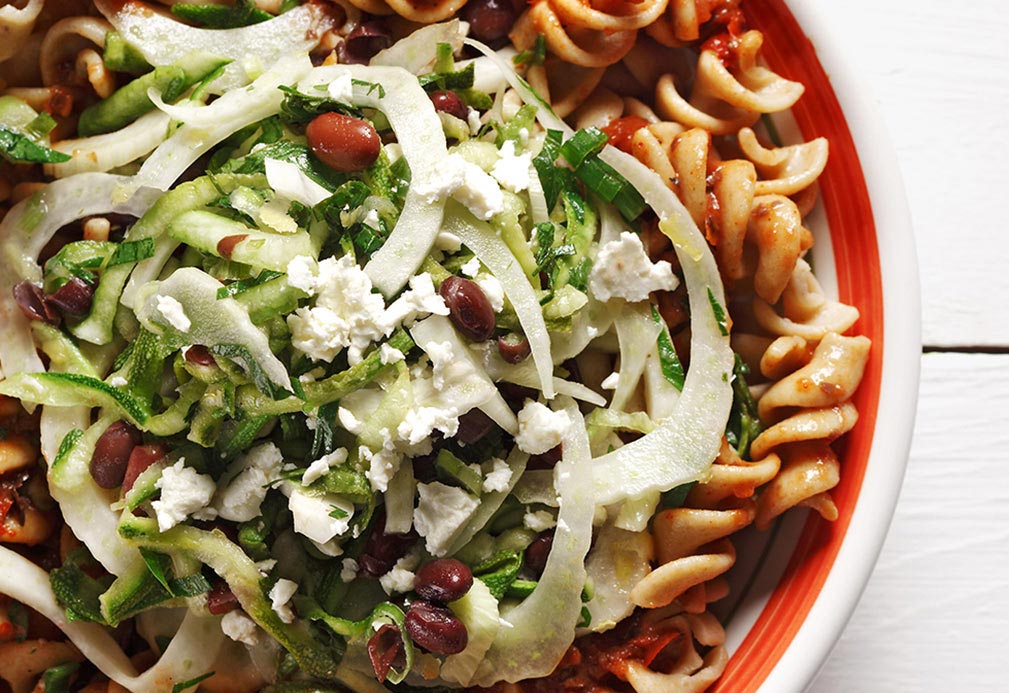 Ingredients
Chile Sauce
8 dried New Mexican chiles* 
Boiling water, as needed
1 cup (about half 14.5-oz can) fire-roasted tomatoes, drained 250 mL
1 cup black beans, drained and rinsed** 250 mL
1 Tbsp canola oil 15 mL
10 oz whole-grain fusilli pasta or other spiral-shaped pasta 300 g
Black Bean-Fennel Relish
1 small zucchini, grated, excluding core 
1 small fennel bulb, cut in half, cored and thinly sliced
2 Tbsp finely chopped parsley 30 mL
2 scallions, thinly sliced
1 lemon, zested and juiced
1 1/2 cups black beans, drained and rinsed** 375 mL
1 Tbsp canola oil 15 mL
1/4 cup feta cheese for garnish 60 mL 
Instructions
1. To prepare chile sauce: In bowl, place chiles and cover with boiling water to rehydrate. Cover bowl with plastic wrap and let chiles sit 30 minutes. When chiles have rehydrated, remove from water, reserving 1 cup (250 mL) chile water for later use. Make slit down each chile, split them lengthwise and remove chile seeds. Be careful not to touch your eyes or other sensitive areas while handling chiles. Once completed, wash hands thoroughly.
2. In food processor, add chiles, 1 cup (250 mL) reserved chile water, tomatoes, 1 cup black beans and canola oil. Purée until mixture is smooth and reserve for later use.
3. Cook pasta according to package instructions. Drain pasta in colander but do not rinse with water.
4. To prepare black bean relish: In bowl, combine zucchini, fennel, parsley, scallions, lemon, remaining black beans and canola oil. Set aside.
5. In large saucepan, warm chile sauce over medium-low heat, stirring occasionally, 3-5 minutes until heated. Remove from heat, add pasta and stir briefly to coat noodles with sauce.
6. Transfer pasta to large serving bowl and add black bean-fennel relish to center of pasta. Garnish with feta cheese and serve.
Tips: *If you prefer less heat, substitute dried ancho or Anaheim chiles or use fewer New Mexican chiles.
** To get 2.5 cups of black beans, you will need to purchase two 15-oz (450 mL) cans or one 29-oz (about 824 mL).
Yield
6 servings
serving size
1 cup (250 mL)
nutritional analysis
Per Serving
Calories
410
Total Fat
10 g
Saturated Fat
1.5 g
Cholesterol
5 mg
Carbohydrates
68 g
Fiber
16 g
Protein
16 g
Sodium
250 mg