Grilled Salmon Over Lentil Salad with Walnut Vinaigrette
This hearty, delicious meal is easy to make and easy to enjoy. Eat it for lunch, dinner or even a picnic. Canola oil in the marinade and vinaigrette allows the zingy taste of the Dijon mustard and fresh herbs to come through. Canola oil also provides heart-smart omega-3 fat along with the salmon and walnuts.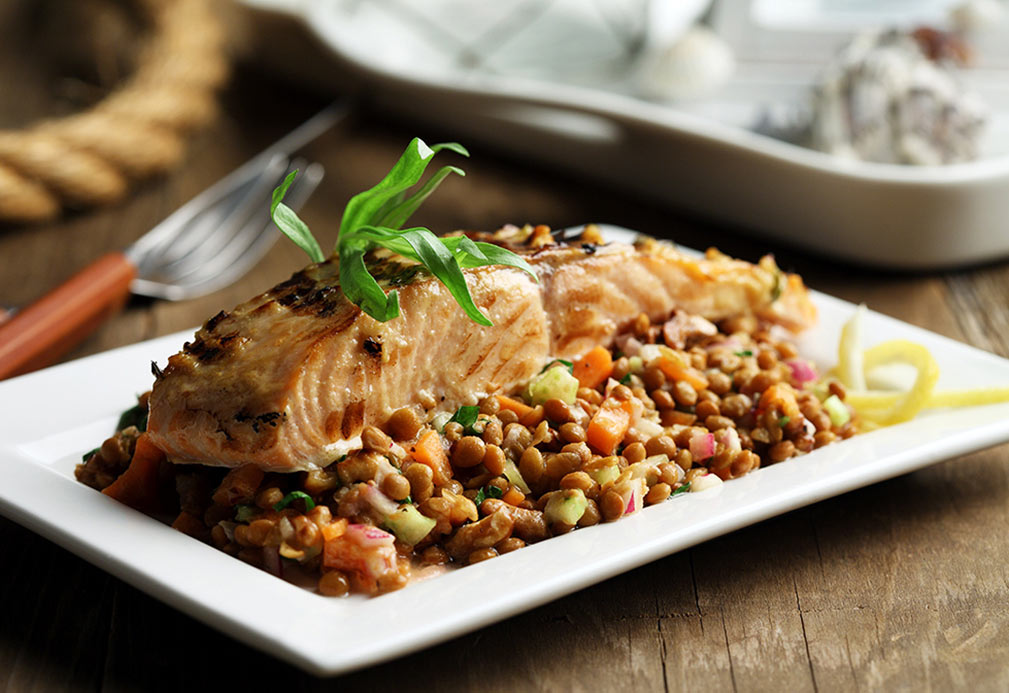 Ingredients
4 salmon fillets (4 oz/125 g portions), skin removed
canola oil cooking spray
Marinade
2 Tbsp Dijon mustard 30 mL
2 Tbsp canola oil 30 mL
2 sprigs fresh tarragon, pulled and roughly chopped
1 clove garlic, minced
Lentil Salad
1 cup dry brown or green lentils, rinsed 250 mL
2 garlic cloves, peeled and smashed
1 bay leaf
1 rosemary sprig
1 medium carrot, finely diced
1 celery stalk, finely diced
1/4 cup red onion, very finely diced 60 mL
1/4 cup parsley, finely chopped 60 mL
1 Tbsp chopped tarragon 15 mL
Walnut Vinaigrette
2 Tbsp red onion, minced 30 mL
2 cloves garlic
1 Tbsp Dijon mustard 30 mL
1/4 cup rice or champagne vinegar 60 mL
1/2 cup canola oil 125 mL
1/2 cup walnuts, toasted and coarsely chopped 125 mL
1/4 tsp pepper 1 mL
lemon wedges for garnish
Instructions
1. In medium bowl, combine all marinade ingredients. Place salmon in marinade and gently toss until thoroughly coated. Place fish in resealable bag in refrigerator for at least 1 hour.  
2. Heat grill to 375 °F (190 °C), when it's too hot to hold hand above coals for more than 5 seconds.  
3. In 5-quart pot, bring 3 cups (750 mL) of water to a boil. Add lentils, garlic cloves, bay leaf and rosemary sprig. Cook lentils until just tender, about 30 minutes. Strain in colander.  
4. In plastic bowl or cup with fitted lid, combine all vinaigrette ingredients. Shake until thoroughly mixed and emulsified. Season with pepper.
5. In large bowl, toss lentils, carrots, celery and red onions together. Stir in enough vinaigrette, about 1/4 cup (60 mL), to coat lentil mixture and store rest in refrigerator for up to one week. Toss in fresh parsley and tarragon. 
6. Spray grill rack lightly and cautiously with cooking spray, then carefully place salmon fillets on hot grill 2 inches (5 cm) apart. Cook on each side 3-4 minutes at diagonal angle to grill rack for professional-looking grill marks. Remove salmon from grill and serve over lentil salad. Garnish with lemon wedges, if desired. 
Tip: The marinade doesn't have a lot of acid, so it's perfect for marinating the salmon for up to 10 hours before grilling (or broiling). Consider placing the salmon and marinade in a resealable bag before work and cooking it when you get home. As another time-saver, the components of the lentil salad may be made up to a day ahead and tossed in the vinaigrette at the last minute or 2 hours before serving. As a quicker alternative, use 1 1/2 cups (375 mL) canned, rinsed lentils or black or small red beans instead.
Yield
4 servings
serving size
1 fillet
nutritional analysis
Per Serving
Calories
420
Total Fat
17 g
Saturated Fat
1 g
Cholesterol
60 mg
Carbohydrates
33 g
Fiber
8 g
Protein
34 g
Sodium
230 mg