Gazpacho With Multi-Grain Croutons
This is the perfect cold soup for a hot summer day. It is also a tasty way to get a serving of vegetables!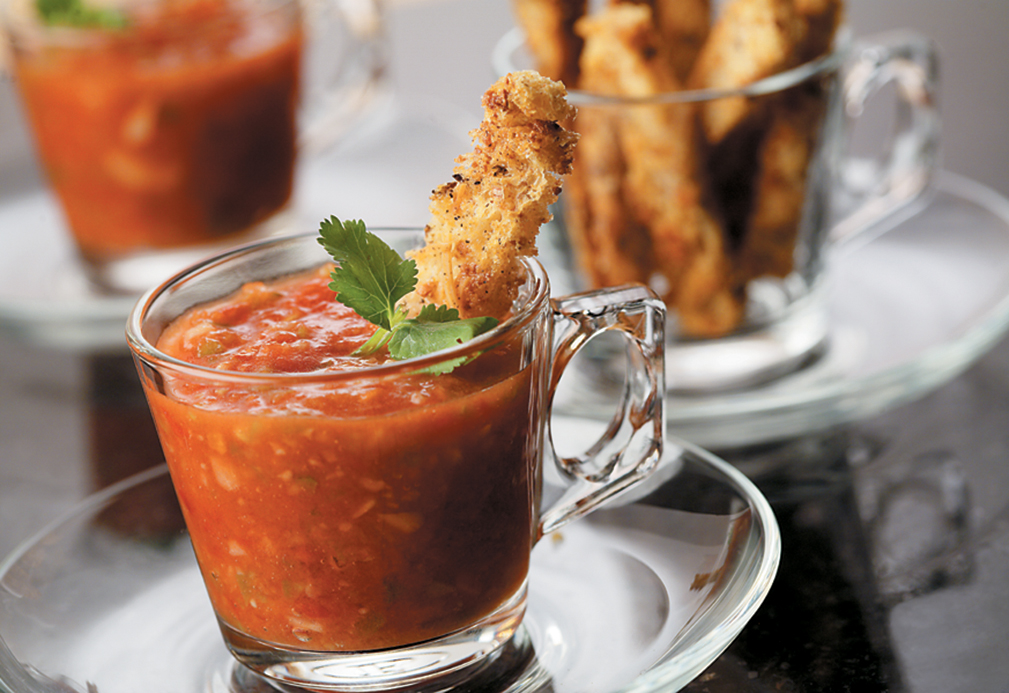 Ingredients
Gazpacho
3 cups tomato juice 750 mL
2 Tbsp canola oil 30 mL
1/4 tsp hot sauce 1 mL
2 tomatoes, chopped
1 seedless cucumber, peeled, chopped
1 red pepper, chopped
1 green pepper, chopped
1 small onion, coarsely chopped
1 carrot, peeled, coarsely chopped
1 clove garlic, coarsely chopped
1/4 tsp salt 1 mL
1/4 tsp pepper 1 mL
fresh cilantro for garnish
Croutons
3 slices multi-grain bread, cut into strips
2 Tbsp canola oil 30 mL
1 Tbsp Parmesan cheese 15 mL
1/4 tsp salt 1 mL
1/4 tsp pepper 1 mL
Instructions
1. In a food processor, blend tomato juice, canola oil, hot sauce, tomatoes, cucumber, red pepper, green pepper, onion, carrot and garlic until almost smooth. Season with salt and pepper and refrigerate for 2 hours. Serve with cilantro and croutons.
2. To prepare the croutons: Preheat oven to 350 °F (180 °C). Toss bread strips with canola oil, Parmesan cheese, salt and pepper. Place on baking sheet. Bake for 20 minutes, until crisp. Stir occasionally. Use croutons to garnish the soup.
Yield
10 servings
serving size
3/4 cup of soup with 1 crouton
nutritional analysis
Per Serving
Calories
110
Total Fat
6 g
Saturated Fat
0.5 g
Cholesterol
0 mg
Carbohydrates
12 g
Fiber
2 g
Sugars
6 g
Protein
3 g
Sodium
300 mg
Potassium
122 mg