Rustic Tomato Soup with Grilled Cheese Crostini
This hearty soup combines tomatoes with the classic flavors of basil, garlic, onions and red peppers for a comforting meal. The grilled cheese crostini offers the same taste as the classic sandwich, but with fewer calories and carbohydrates since it's open-faced.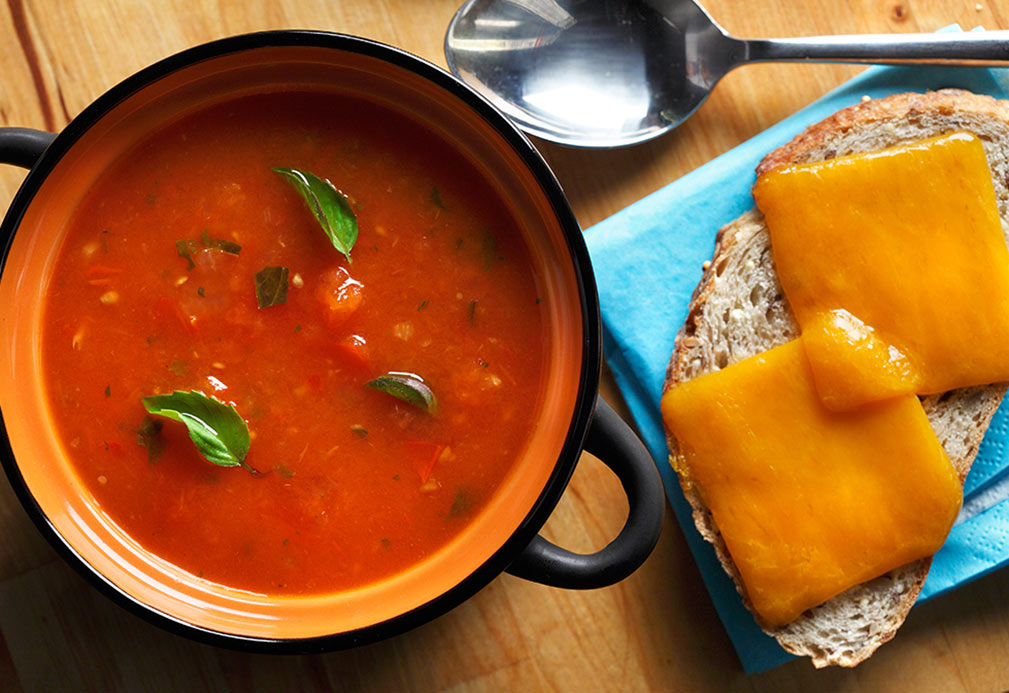 Ingredients
Soup
2 Tbsp canola oil 30 mL
2 yellow onions, chopped
6 cloves garlic, minced
1/4 tsp crushed red pepper flakes 1 mL
6 lb tomatoes, chopped* 2.7 kg
2 cups fresh basil leaves, chopped** 500 mL
4 cups low-sodium vegetable broth 1 L
Garnish
3 Tbsp balsamic vinegar 45 mL
1/4 cup fresh basil leaves, chopped 60 mL
Grilled Cheese Crostini
3 slices 2% cheddar cheese, cut in half
6 slices whole grain Italian bread, cut on bias, about 1-inch (2.5 cm) thick each
Instructions
1. To prepare soup: Warm large pot over medium heat. Add canola oil, onions, garlic, crushed red pepper and sauté 5 minutes. 
2. Add tomatoes, basil and broth. Bring to boil, cover and simmer 15 minutes. 
3. With immersion blender (or hand blender), purée soup to desired smoothness.
4. To prepare crostini: Place half slice of cheese on each slice of bread, place on baking sheet and broil 5 minutes until cheese bubbles and bread is toasted.
5. Top soup with drizzle of balsamic vinegar and basil. Serve with cheese crostini on side.
Substitution Notes:
*6 lb (2.7 kg) fresh tomatoes may be substituted with 3 lb (1.5 kg) fresh tomatoes and 1 can (28 oz/796 mL) low-sodium crushed tomatoes or 2 cans (28 oz/796 mL each) low-sodium crushed tomatoes.
**Fresh basil may be substituted with 1/4 cup (60 mL) dried basil.
Yield
6 servings
serving size
2 cups (500 mL) soup and 1 slice cheese crostini
nutritional analysis
Per Serving
Calories
270
Total Fat
8 g
Saturated Fat
1 g
Cholesterol
5 mg
Carbohydrates
40 g
Fiber
5 g
Sugars
17 g
Protein
9 g
Sodium
320 mg
Potassium
154 mg