Roasted Vegetable Minestrone
Absolutely fabulous! The roasted vegetables with the prosciutto add many wonderful flavors to this earthy, rich Italian vegetable soup. Roast the veggies and then complete the soup in minutes.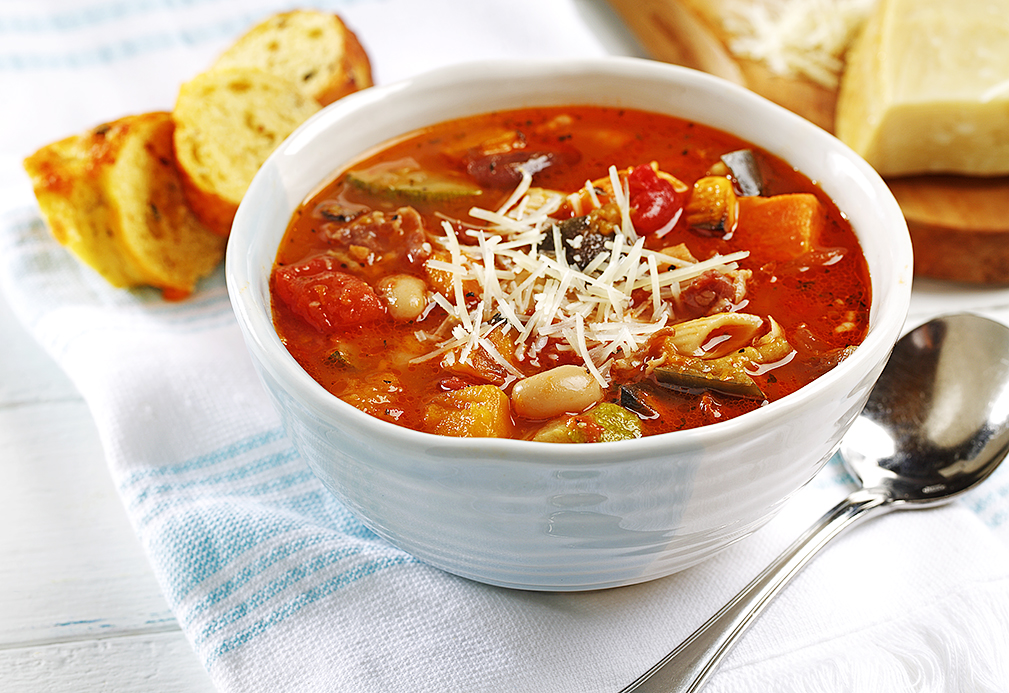 Ingredients
1 sweet potato, peeled and coarsely chopped
1 medium zucchini, coarsely chopped
1 medium yellow squash, coarsely chopped
1 medium eggplant, peeled and coarsely chopped (about 1 lb/500 g)
5 Roma tomatoes, coarsely chopped
1 red onion, coarsely chopped
6 garlic cloves, peeled
1 Tbsp canola oil 15 mL
1/2 tsp salt 2 mL
1/2 tsp pepper 2 mL
canola oil cooking spray
2 oz prosciutto 55 g
1 tsp dried oregano 5 mL
1 tsp basil 5 mL
dash red pepper flakes
2 bay leaves
1 (14oz/398 mL) can whole tomatoes in juice, broken up
9 cups chicken broth, regular or low sodium 2.25 L
1 (16oz/455 mL) can cannellini beans or white beans, rinsed and drained
2/3 cup penne pasta noodles 150 mL
garnish with grated Parmesan cheese
Instructions
1. Preheat oven to 400° F (200°C).
2. In a large bowl, combine sweet potatoes, zucchini, yellow squash, eggplant, tomatoes, red onion, and garlic. Add canola oil, salt and pepper to taste and toss. Line baking sheet with foil. Place vegetables on the foil lined baking sheet. Roast for 45 minutes to 1 hour, stirring vegetables after 30 minutes. Remove from oven and set aside.
3. In a large non-stick pot, coated with canola oil cooking spray, cook prosciutto, oregano, basil and red pepper flakes over medium heat for 1 minute, stirring constantly.
4. Add bay leaves, tomatoes, chicken broth and beans. Bring mixture to a boil and add pasta. Lower heat and simmer for 15 minutes or until the pasta is tender. Remove bay leaves. Stir in roasted vegetables. Garnish with grated Parmesan cheese and serve immediately.
Yield
12 servings 12 cups (3L)
serving size
1 1/2 cup (375 mL)
nutritional analysis
Per Serving
Calories
160
Total Fat
4 g
Saturated Fat
1.5 g
Cholesterol
10 mg
Carbohydrates
21 g
Fiber
6 g
Sugars
4 g
Protein
10 g
Sodium
410 mg
Potassium
364 mg