Greek Lentil Salad
This is a salad that is repeated over and over at our family functions. The lentils add a delicious twist to your everyday Greek salad.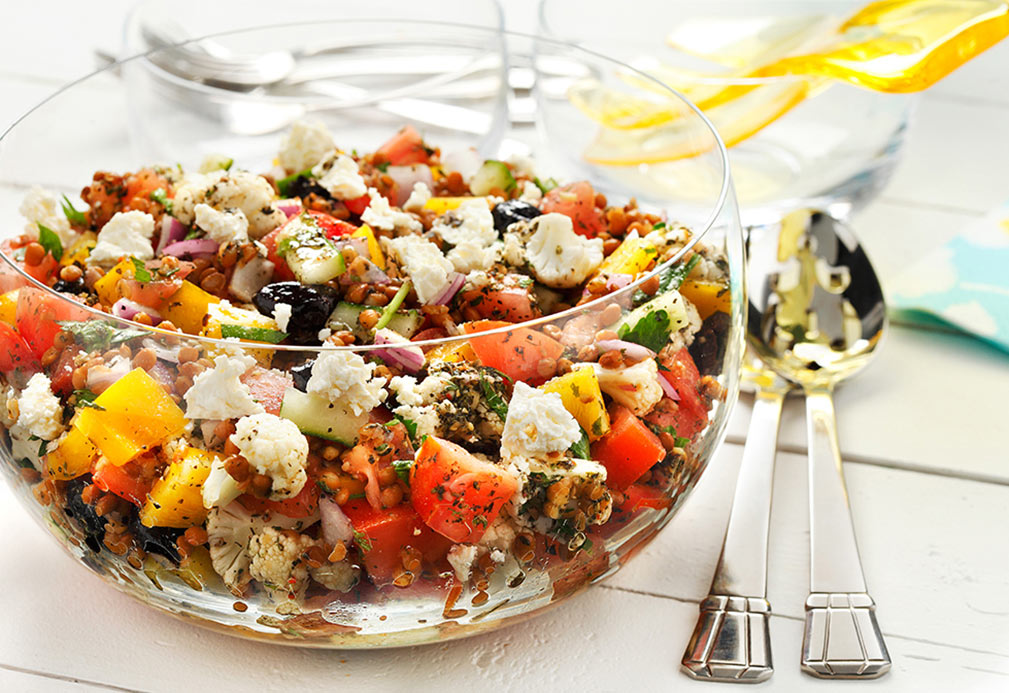 Ingredients
Salad
2 cups lentils or black beans, cooked 500 mL
1 cup chopped cucumber 250 mL
1/2 cup chopped red onion 125 mL
2 tomatoes, chopped
1 yellow pepper, chopped
1 cup chopped cauliflower 250 mL
1/2 cup chopped parsley 125 mL
1/4 cup feta cheese, crumbled 60 mL
1/2 cup sliced black olives 125 mL
Vinaigrette
2 Tbsp lemon juice 30 mL
1 tsp pepper 2 mL
1 Tbsp red wine vinegar 15 mL
2 cloves garlic, minced
2 tsp dry crumbled oregano 10 mL
2 tsp dry crumbled parsley or mint 10 mL
2 tsp dry crumbled basil 10 mL
1/3 cup canola oil 75 mL
Instructions
1. Combine salad ingredients. In a separate bowl combine vinaigrette ingredients. Pour over salad mixture. Stir to combine. Tastes even better the next day!
Yield
16 servings
serving size
nutritional analysis
Per Serving
Calories
101
Total Fat
6 g
Saturated Fat
1 g
Cholesterol
4 mg
Carbohydrates
9 g
Fiber
2 g
Protein
4 g
Sodium
291 mg