Green Chili and Bean Soup
When you need a hearty and filling soup to warm your bones, here's one to try. The combination of jalapeños and pinto beans puts a yummy Latin flavor into this recipe.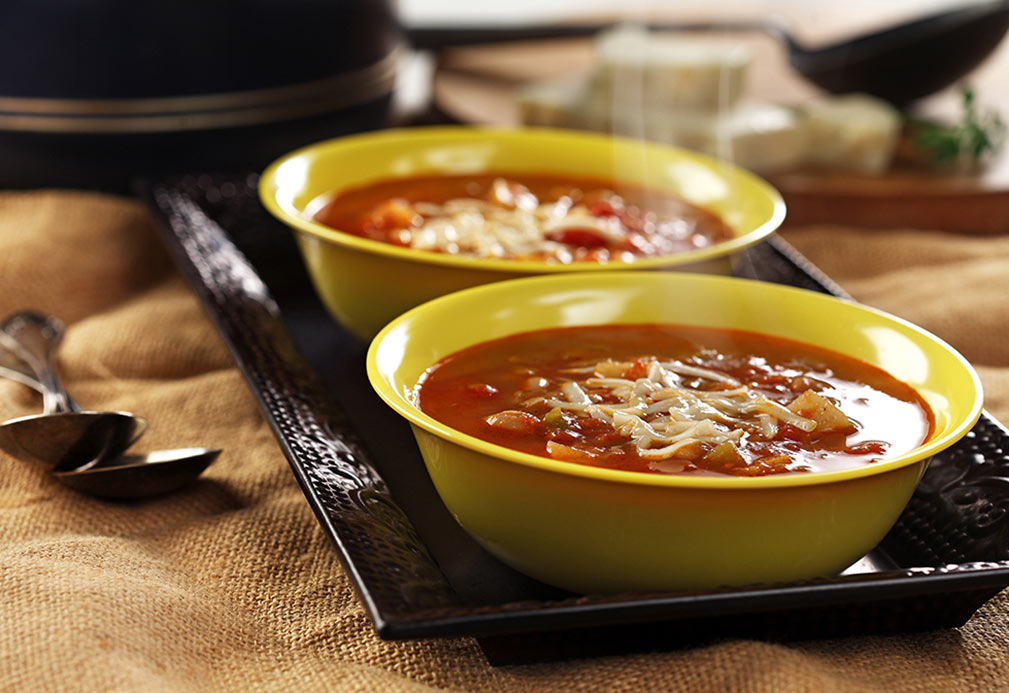 Ingredients
1 1/2 onions, chopped
3 garlic cloves, minced
2 Tbsp canola oil 30 mL
2 tsp paprika 10 mL
4 cups vegetable stock or low sodium chicken broth 1 L
1 can (14 oz) tomatoes, chopped 398 mL
1 can (4 oz) green jalapeno chilies 114 mL
1 cup cubed potatoes 250 mL
1/2 tsp cumin 2 mL
1 cup cooked pinto beans 250 mL
1/2 tsp salt 2 mL
1/4 tsp ground black pepper 1 mL
3/4 cup grated Monterey Jack cheese 175 mL
Instructions
1. In skillet, add canola oil and sauté onions and garlic until brown. Add paprika and brown 2 minutes more, stirring constantly.
2. In 5- to 6-quart slow cooker, add onions, broth, tomatoes, green chilies, potato, cumin, beans, salt and pepper. Cover and cook for 2 to 3 hours on high, or 4 to 6 hours on low.
3. Divide cheese among 8 soup bowls. Ladle soup into bowls. Serving steaming hot.
Yield
8 servings
serving size
1 cup (250 mL)
nutritional analysis
Per Serving
Calories
160
Total Fat
8 g
Saturated Fat
3 g
Cholesterol
15 mg
Carbohydrates
14 g
Fiber
3 g
Protein
9 g
Sodium
600 mg