Grill Pan Chicken with Olive Gremolata
This super-quick dish is easy enough for weeknight dinners and sophisticated enough for casual weekend entertaining. The flavor-popping ingredients of green onion combined with fresh garlic, lemon and Italian parsley explodes with freshness in every bite. Canola oil allows these gorgeous ingredients to shine.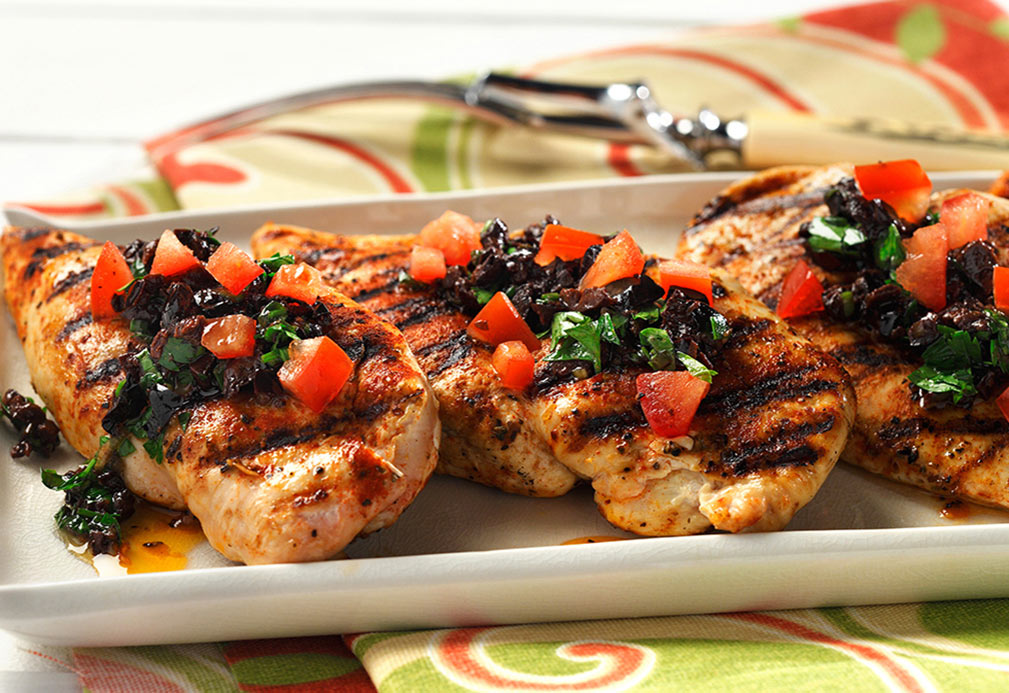 Ingredients
1 tsp smoked paprika 5 mL
1/2 tsp dried oregano leaves 2 mL
1/4 tsp coarsely ground black pepper 1 mL
1/4 tsp salt 1 mL
4 boneless, skinless chicken breast halves, rinsed and pat dry, flattened to 1/4-inch (6-mm) thickness (about 4 oz/125 g each)
1 Tbsp canola oil 15 mL
Olive Topping:
2 oz finely chopped ripe olives 60 g
1/3 cup finely chopped fresh Italian parsley 75 mL
3 Tbsp finely chopped green onion 45 mL
1 Tbsp red wine vinegar 15 mL
1 medium garlic clove, minced
1 1/2 Tbsp canola oil 20 mL
1/8 tsp salt 0.5 mL
1/2 medium tomato, seeded and diced
Instructions
1. In a small bowl, combine paprika, oregano, black pepper and salt. Brush both sides of  chicken pieces with canola oil. Sprinkle evenly with paprika mixture.
2. Heat a grill pan over medium-high heat until hot. Cook chicken 3 minutes on each side or until no longer pink and juices run clear.
3. Meanwhile, in a small bowl, stir together olives, parsley, green onion, vinegar, garlic, canola oil and salt. To serve, spoon equal amounts of topping on each chicken breast and sprinkle evenly with tomatoes.
Yield
4 servings
serving size
1 chicken breast and 1/4 cup (60 mL) olive topping
nutritional analysis
Per Serving
Calories
200
Total Fat
14 g
Saturated Fat
1.5 g
Cholesterol
35 mg
Carbohydrates
4 g
Fiber
1 g
Sugars
1 g
Protein
13 g
Sodium
440 mg