Chicken With Citrus Chipotle Cream
Spice up your chicken tonight with this creamy chipotle sauce.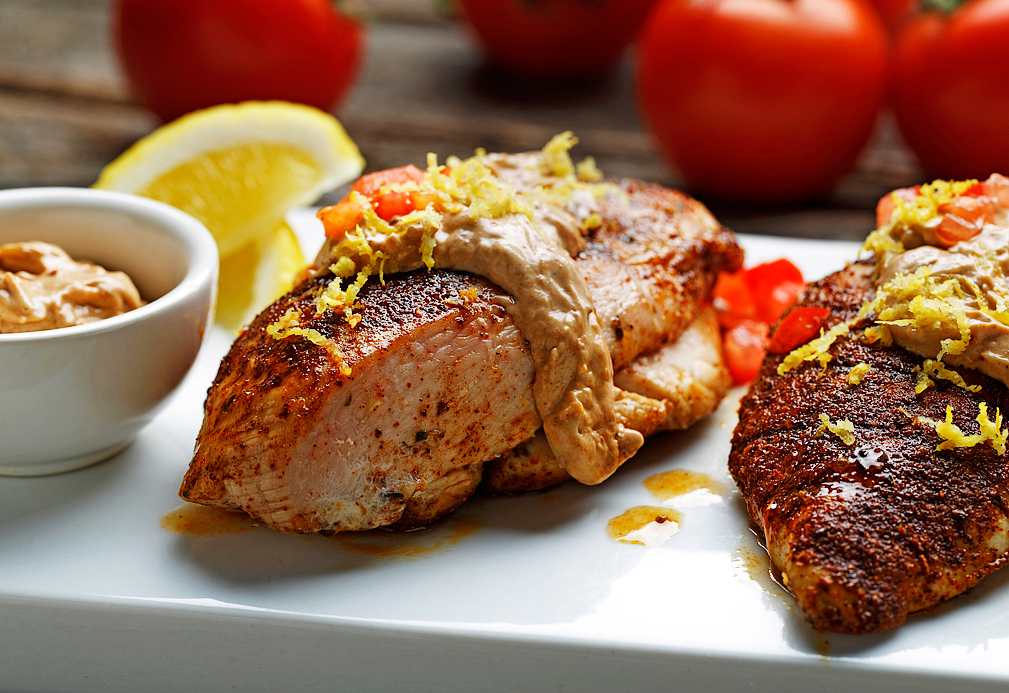 Ingredients
4 boneless skinless chicken breasts, rinsed and patted dry (about 1lb/500g total)
2 tsp chili powder 10 mL
1 tsp ground cumin 5 mL
1/2 tsp dried oregano leaves 2 mL
1/4 tsp salt 1 mL
canola oil cooking spray
Sauce:
1 1/2 Tbsp canola mayonnaise 20 mL
2 Tbsp fat free sour cream 30 mL
2 tsp lemon juice 10 mL
1 medium garlic clove, minced
1/2 of one minced chipotle chili pepper
1 tsp adobo sauce 5 mL
1/4 tsp ground cumin 1 mL
1/4 tsp salt 1 mL
1 medium tomato, seeded
Assembly
4 lemon wedges, optional
Instructions
1. Preheat grill or broiler.
2. Combine the chili powder, 1 tsp (5 mL) of cumin, oregano and 1/4 tsp (1 mL) of the dalt in small bowl. Sprinkle evenly over both sides of chicken pieces.
3. Coat cold grill rack or broiler rack with cooking spray, place chicken over grill or broiler pan, and cook 5 minutes on each side or until no longer pink in center.
4. Meanwhile, combine remaining ingredients, except tomato and lemon wedges, and stir until well blended.
5. Place chicken on four individual plates, top evenly with sauce and sprinkle tomatoes over all. Serve with lemon wedges, if desired.
Yield
4 servings
serving size
nutritional analysis
Per Serving
Calories
210
Total Fat
8 g
Saturated Fat
1.5 g
Cholesterol
75 mg
Carbohydrates
5 g
Fiber
1 g
Protein
28 g
Sodium
690 mg