Grilled Chicken on Mustards with Pineapple Vinaigrette
Take a break from the typical bagged salads and reach for mustard greens instead! They taste a lot like endive, and serve up not only a dose of flavor, but also vitamins A and C. This salad provides 190 percent of your daily requirement of vitamin A and 170 percent of vitamin C in every serving!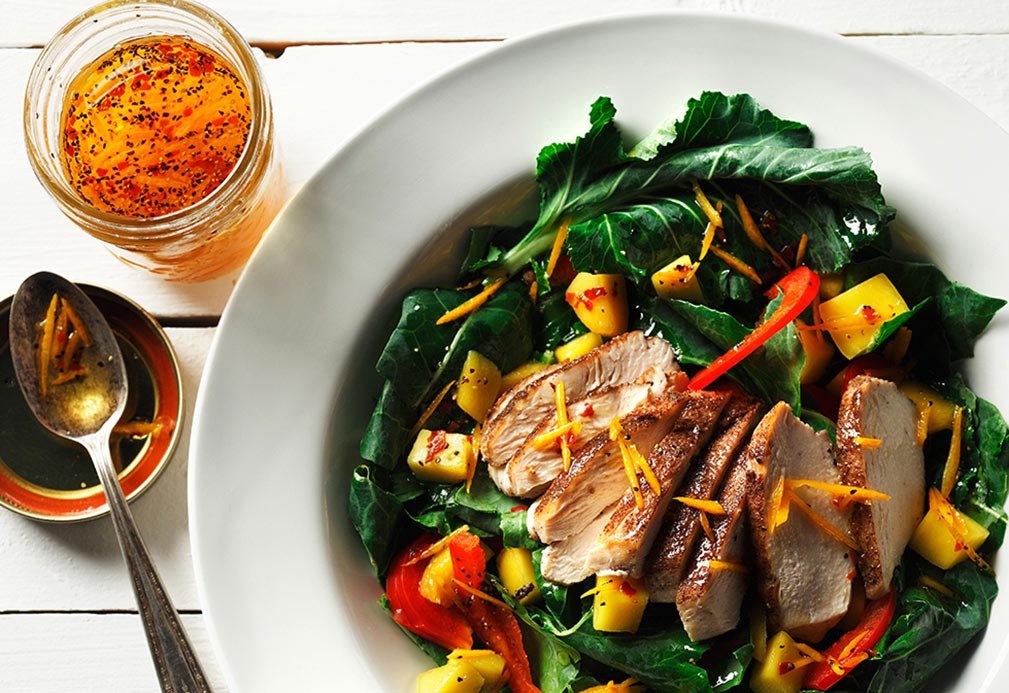 Ingredients
Chicken:
1 tsp ground cumin 5 mL
1/2 tsp ground allspice 2 mL
1/4 tsp salt 1 mL
4 (3 oz/ 90 g) boneless, skinless chicken breast halves, trimmed of fat, rinsed and pat dry
1 Tbsp canola oil 15 mL
Salad:
6 cups packed fresh mustard greens, torn into bite-size pieces 1.5 L
1/2 medium red bell pepper, thinly sliced
1 ripe medium mango, peeled, pitted and chopped
Vinaigrette:
1/3 cup pineapple juice 75 mL
2 Tbsp granulated sugar 30 mL
3 Tbsp white balsamic vinegar 45 mL
1 1/2 Tbsp canola oil 20 mL
2 tsp grated orange zest 10 mL
1/4 tsp salt 1 mL
1/4 tsp coarsely ground black pepper 1 mL
1/8-1/4 tsp dried pepper flakes 0.5-1 mL
Instructions
1. To prepare chicken: In a small bowl, combine cumin, allspice and salt. Brush both sides of chicken with 1 Tbsp (15 mL) canola oil and then sprinkle with cumin mixture. Cook chicken 5 minutes on each side or until no longer pink inside and juices run clear. Place on cutting board and let stand 5 minutes before thinly slicing diagonally.
2. Meanwhile, prepare salad by arranging equal amounts of mustards greens, bell pepper, and mango on each of four dinner plates.
3. To prepare vinaigrette: Whisk together all ingredients. Spoon dressing evenly over each serving and top with equal amounts of chicken slices. Sprinkle with additional black pepper, if desired.
Yield
4 servings
serving size
3 oz (90 g) cooked chicken, about 2 cups (500 mL) salad and 3 Tbsp (45 mL) dressing
nutritional analysis
Per Serving
Calories
250
Total Fat
10 g
Saturated Fat
1 g
Cholesterol
40 mg
Carbohydrates
25 g
Fiber
4 g
Sugars
13 g
Protein
16 g
Sodium
390 mg