Three Grain Salad with Goat Cheese
If you haven't tried the new "old" grains, now's the time. They're fun to eat and when mixed up, they make an intriguing presentation that's loaded with fiber and protein. Canola oil makes this salad low in saturated fat to boot.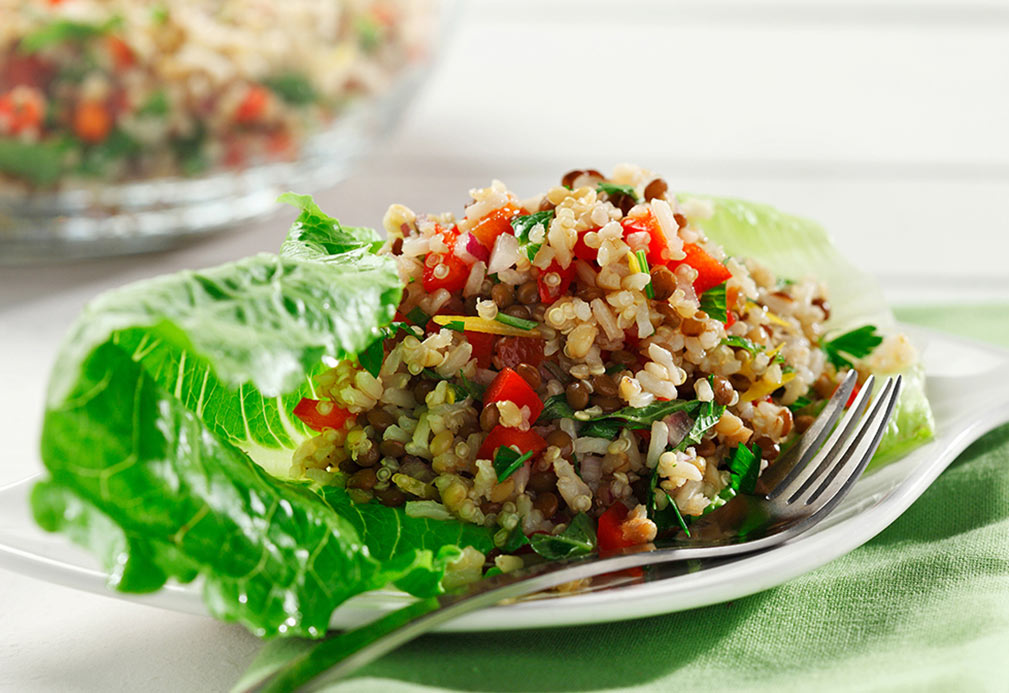 Ingredients
4 cups water 1 L
1/2 cup dried lentils, rinsed and sorted for stones and shriveled lentils 125 mL
1/3 cup quick cooking bulgur 75 mL
1/3 cup quinoa 75 mL
1/3 cup quick-cooking brown rice 75 mL
1 medium red bell pepper, diced
1/2 cup finely chopped red onion 125 mL
zest of 2 large lemons
3 Tbsp fresh lemon juice 45 mL
1/4 cup canola oil 60 mL
1/4 tsp dried pepper flakes 1 mL
1 cup chopped fresh mint or Italian parsley 250 mL
1 tsp salt 5 mL
3 oz hard or semi-soft goat cheese, crumbled 90 g
12 large romaine lettuce leaves
Instructions
1. In a large saucepan, bring water and lentils to a boil over high heat. Reduce heat, cover and simmer for 10 minutes. Stir in bulgur, quinoa and rice. Cover and cook for 12-13 minutes, or until lentils are just tender. Drain in a fine mesh sieve. Run under cold water to cool quickly. Drain well. Transfer to a large bowl.
2. Meanwhile, in a large bowl, combine bell pepper, onion, lemon zest and juice, canola oil and pepper flakes. Stir until well blended.
3. Stir in drained lentil mixture and mint. Toss gently until well blended. Season with salt. Gently fold in goat cheese and serve on lettuce leaves.
Yield
12 servings
serving size
1/2 cup (125 mL) lentil mixture and 1 lettuce leaf
nutritional analysis
Per Serving
Calories
150
Total Fat
7.5 g
Saturated Fat
2 g
Cholesterol
5 mg
Carbohydrates
17 g
Fiber
4 g
Sugars
2 g
Protein
6 g
Sodium
230 mg