Grilled Herb Stuffed Fish with Chimichurri Sauce
Whole fish is so simple and easy to grill on the barbecue. This French Provence-style recipe with fennel, lemon and herbs is classic for whole fish. Garnish with the famed Argentinean Chimichurri salsa of parsley, lemons and chilies. Canola oil keeps the fish from drying out and its mild taste lets the aromatics shine.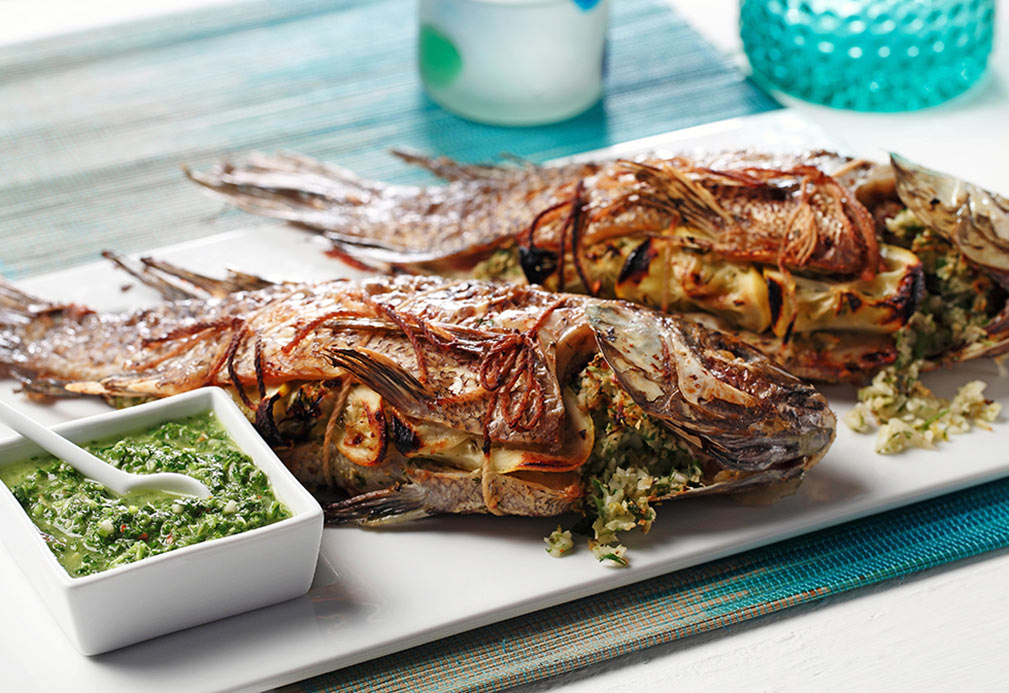 Ingredients
2 large whole fish*, about 2-3 lbs each (such as snapper, sea bass or trout), gutted, cleaned and prepped 1–1.5 kg
Stuffing
2 large lemons
1 medium fennel bulb, coarsely chopped
3 garlic cloves
1/2 tsp dried red chili flakes 2 mL
1/2 tsp cumin seed 2 mL
1 cup coarsely chopped mixed fresh herbs (flat-leaf parsley, chives, dill, and tarragon) 250 mL
1/4 cup canola oil 60 mL
1/4 tsp salt 1 mL
1/4 tsp ground black pepper 1 mL
2 Tbsp canola oil 30 mL
30 inches (76 cm) string soaked in water for 1 hour, cut into 2 pieces to wrap fish
Chimichurri Sauce
4 garlic cloves, chopped
1 bunch flat-leaf parsley, rinsed, dried and coarsely chopped
1/2 bunch cilantro, rinsed, dried and coarsely chopped
1/2 cup canola oil 125 mL
1/4 cup red wine vinegar 60 mL
1 Tbsp lemon zest 15 mL
3 Tbsp lemon juice 45 mL
1 tsp salt 5 mL
1 tsp dried red pepper flakes 5 mL
1/2 tsp cumin 2 mL
Instructions
1. Rinse fish well and pat dry with paper towel. Finely grate peel from one lemon and set aside. Thinly slice both lemons.
2. In food processor, add chopped fennel, garlic cloves, chili flakes, cumin seed, mixed herbs, canola oil, salt and pepper. Pulse until finely chopped. Divide mixture and stuff into body cavity of each fish, then place lemon slices around stuffing to hold it in. Tie string around fish to hold in lemon slices and stuffing.
3. Place both stuffed fish on platter and brush outside with canola oil. Cover with plastic wrap and allow to sit for 30 minutes.
4. Place whole fish onto medium-hot barbecue for 15 to 20 minutes or until fish is flaky, turning halfway through cooking. Remove and serve with chimichurri sauce.
*Tip: You can use six small fish (1 1/2 lbs or 750 g each) if you'd like individual serving sizes.
Chimichurri Sauce
1. In food processor, combine all ingredients. Pulse until sauce reaches pesto-like texture. Transfer to bowl and cover tightly with plastic wrap. Refrigerate until ready to use. Use within 2 to 3 days.
Yield
6 servings
serving size
1 cup (250 mL)
nutritional analysis
Per Serving
Calories
290
Total Fat
17 g
Saturated Fat
2 g
Cholesterol
60 mg
Carbohydrates
4 g
Fiber
2 g
Sugars
0 g
Protein
29 g
Sodium
230 mg
Potassium
615 mg