Grilled Fish Tacos with Citrus Slaw
Canola oil's mild flavor make it a great choice for recipes that you want the flavors of the ingredients to shine through.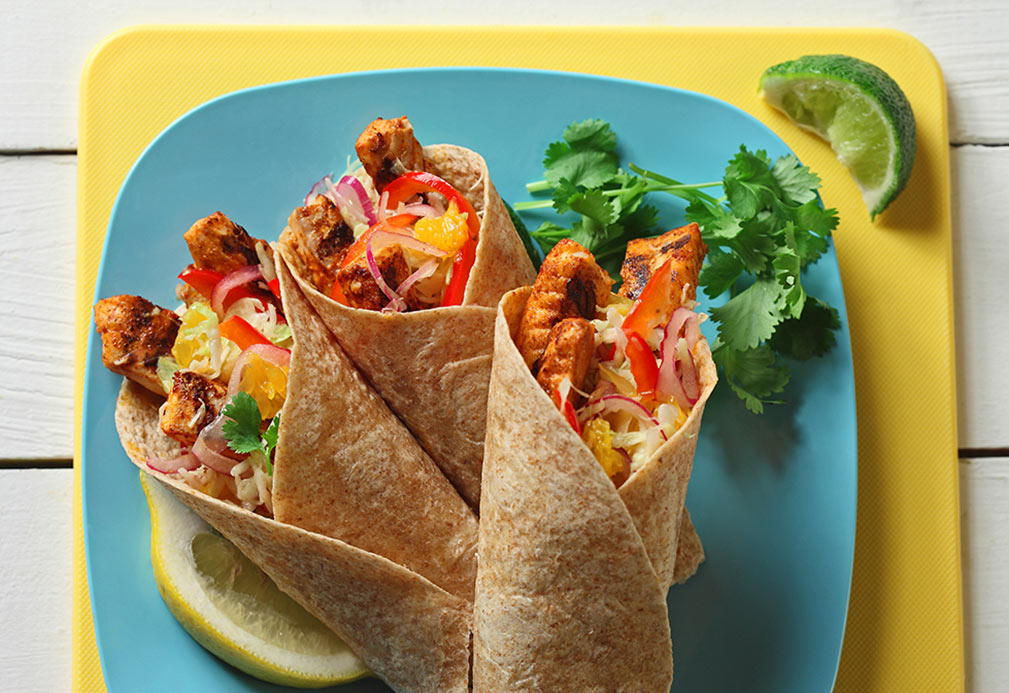 Ingredients
1 Tbsp chili powder 15 mL
1/4 cup canola oil 60 mL
2 Tbsp fresh lemon or lime juice 30 mL
4 firm white fish fillets
Citrus Slaw
2 cups prepared coleslaw mix 500 mL
1 cup orange sections, diced 250 mL
1 small red pepper, thinly sliced
1 small red onion, thinly sliced
1/2 cup white vinegar 125 mL
1/4 cup canola oil 60 mL
3 Tbsp granulated sugar 45 mL
1 tsp salt 5 mL
1/4 tsp pepper 1 mL
Tacos
4 Whole wheat tortillas (10 in/25.5cm) size
lemon and or lime wedges
cilantro leaves (optional)
Instructions
1. In a bowl, combine chili powder, canola oil and lemon juice. Add fillets and marinate for 20 minutes. Remove from marinade and arrange fillets in grilling pan. Brush marinade over fillets. Grill 6 to 8 minutes on each side or until fish flakes easily when tested with a fork.
2. To prepare citrus slaw: In a bowl, combine coleslaw mix, oranges, pepper and onion. In a small bowl, whisk together vinegar, canola oil, sugar, salt and pepper. Pour over slaw mixture and gently toss. Cover and chill until ready to serve.
3. To serve: Place 1 fillet on a tortilla and top with 3/4 cup (175 mL) citrus slaw. Squeeze lemon and lime over slaw. Fold and roll tortilla. Garnish with cilantro, if desired.
Yield
4 servings
serving size
1 taco
nutritional analysis
Calories
430
Total Fat
22 g
Saturated Fat
1.5 g
Cholesterol
55 mg
Carbohydrates
31 g
Fiber
3 g
Sugars
6 g
Protein
25 g
Sodium
400 mg
Potassium
570 mg