Grilled Lemongrass Pork Tenderloin
Lemongrass is an amazing aromatic herb that tastes of fresh lemon and limes.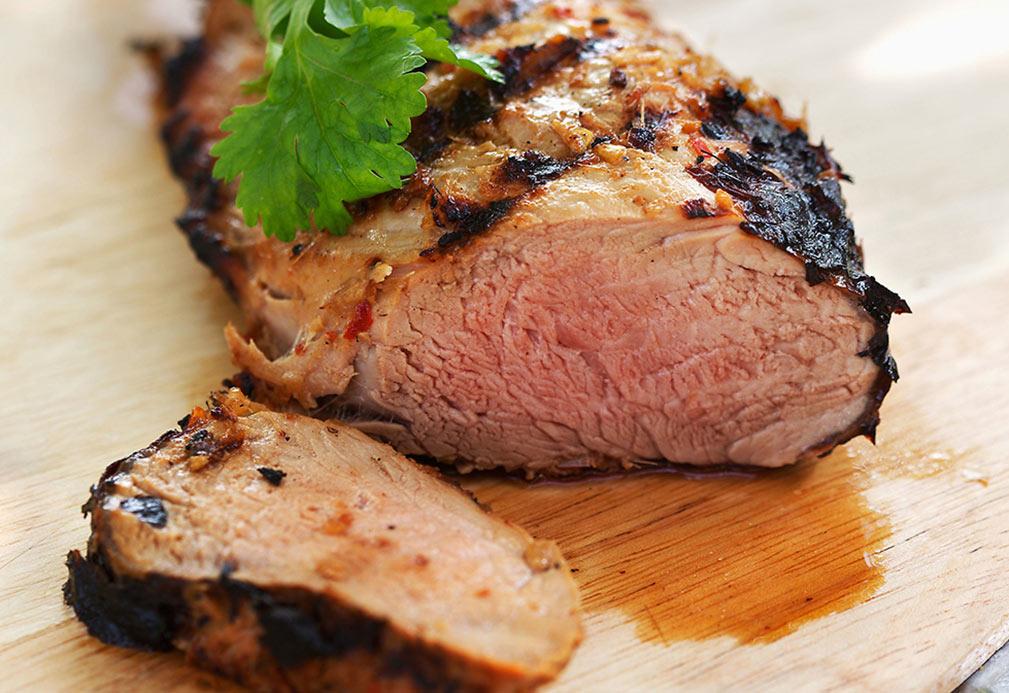 Ingredients
6 lemongrass stalks
3 Tbsp water 45 mL
3 Tbsp freshly squeezed lime juice 45 mL
1 garlic clove
3 Tbsp honey 45 mL
1 Tbsp soy sauce 15 mL
1 tsp crushed red pepper flakes, or to taste 5 mL
1/4 tsp kosher salt, or to taste 1 mL
3 Tbsp canola oil 45 mL
1 pork tenderloin (about 1 1/2 lb/750 g), trimmed
2 Tbsp chopped fresh cilantro, for garnish 30 mL
Instructions
1. Trim off root ends of lemongrass; remove all tough outer leaves. Cut off tender lower 4 to 6 inches (10 to 15 cm) of stalks, and chop. Discard tops. Purée chopped lemongrass and water in blender until smooth, about 2 minutes.
2. Add lime juice, garlic, honey, soy sauce, pepper flakes, salt and canola oil, and blend until smooth, about 1 minute more. Place pork in large resealable plastic bag; add 2/3 of marinade, and squeeze out excess air. Marinate in refrigerator for at least 4 hours but preferably overnight; turn as needed to evenly coat. Reserve remaining marinade for basting.
3. Preheat grill to medium. Clean it with stiff brush, then rub with canola oil. Remove tenderloin from marinade and shake off excess. Discard marinade. Season pork with salt.
4. Grill until cooked through, about 6 to 8 minutes per side. Baste pork with reserved marinade halfway through cooking time. Cook until an instant-read thermometer registers 140 °F to 145 °F (60 °C to 63 °C) for medium-rare to medium or 150 °F to 155 °F (66 °C to 68 °C) for medium to medium-well. Remove from grill, and allow to rest for 5 minutes before slicing. Sprinkle with cilantro and serve hot or at room temperature.
Variation: Marinade also delicious for beef, chicken, shrimp and fish. Marinate beef, pork and chicken overnight, fish and shrimp up to 1 hour.
Tip: Delicious served with stir-fried vegetables and jasmine rice. Or slice into thin strips and serve as lettuce wraps with fresh mint, cilantro and a Thai or Vietnamese dipping sauce.
Yield
4 Servings
serving size
3 slices of 1/2 in./1 cm (158 g)
nutritional analysis
Per Serving
Calories
310
Total Fat
12 g
Saturated Fat
2 g
Cholesterol
110 mg
Carbohydrates
12 g
Fiber
0 g
Sugars
10 g
Protein
36 g
Sodium
260 mg
Potassium
721 mg