Grilled Pineapple with Ginger and Star Anise Marinade
Fresh ginger and whole star anise perfume this tasty dessert. Canola oil is used to coat the pineapple before grilling because of both its high heat tolerance and mild flavor.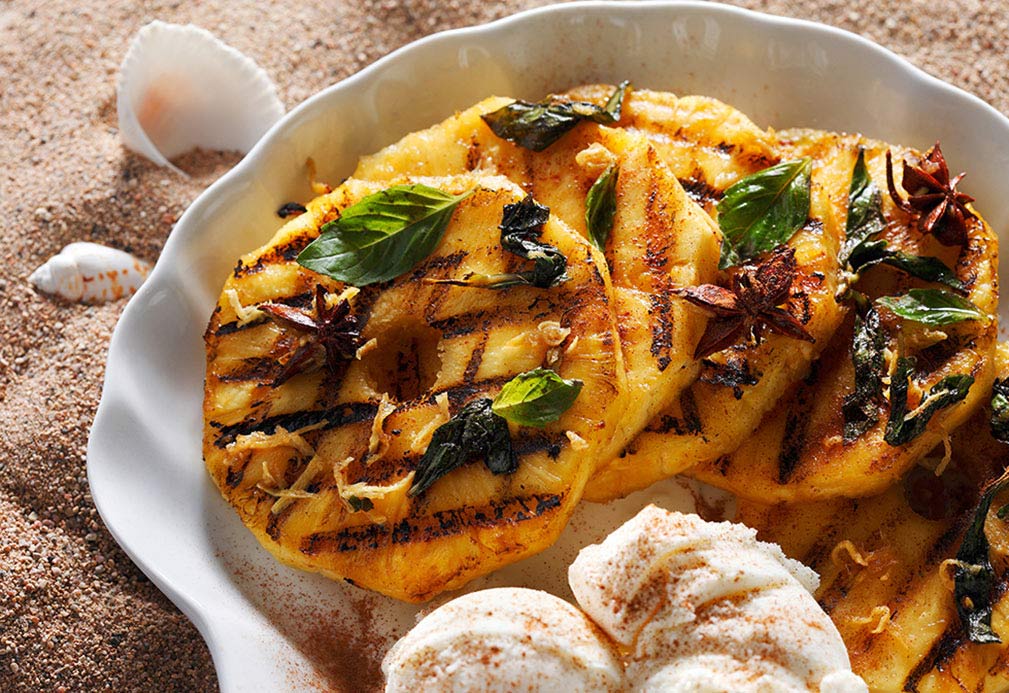 Ingredients
1 Tbsp fresh ginger, grated 15 mL
2 whole star anise, ground by mortar and pestle
1/2 cup fresh basil leaves, chopped 125 mL
1 Tbsp brown sugar 15 mL
1 small pineapple, cored and cut in 1/2-thick (1-cm) slices
canola oil cooking spray 
1 Tbsp cinnamon 15 mL
2 cups frozen yogurt 500 mL 
fresh basil leaves for garnish
Instructions
1. In medium bowl, combine ginger, anise, basil and sugar.
2. Add pineapple slices and stir to coat pineapple. Set aside to allow flavors to develop.
3. Spray canola oil on grill and cook pineapples until they are marked on both sides and they appear slightly caramelized.
4. Sprinkle pineapple slices with ground cinnamon and serve with 1/2 cup (125 mL) frozen yogurt. Garnish with fresh basil leaves.
Yield
4 servings
serving size
2 slices pineapple and 1/2 cup (125 mL) frozen yogurt
nutritional analysis
Per Serving
Calories
160
Total Fat
3.5 g
Saturated Fat
2 g
Cholesterol
10 mg
Carbohydrates
32 g
Fiber
2 g
Sugars
27 g
Protein
4 g
Sodium
60 mg
Potassium
182 mg