Grilled Pineapple with Raspberry Puree
This quick-to-prepare dessert is simply delicious! I like to serve the lightly grilled fresh fruit with vanilla yogurt. To add a little crunch, accompany with Cinnamon Sugar Triangles.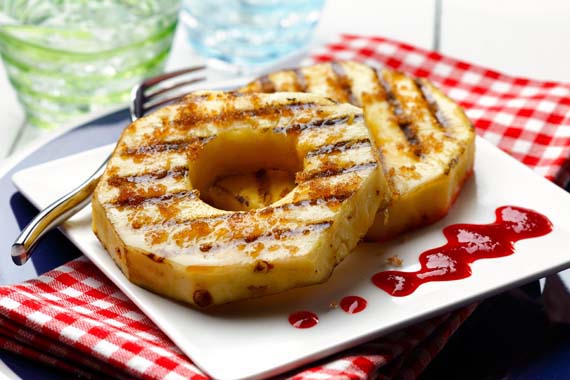 Ingredients
Raspberry puree
1 package (10 oz/280 g) frozen raspberries in light syrup, thawed 280g
1 Tbsp honey 15 mL
Dash of ground nutmeg
Pineapple
8 fresh pineapple rings (1/2 inch/1.25 cm)
2 tsp canola oil 10 mL
4 tsp packed brown sugar 20 mL
Instruction:
Instructions
1. Pour raspberries (with the syrup) and the honey into food processor or blender. Puree until smooth. Pour the mixture into a strainer and place over small bowl. Stir to press liquid into bowl. Stir in nutmeg. Discard seeds.
2. To grill pineapple, heat stove top grill pan over high heat. When a drop of water sizzles, lightly brush both sides of the pineapple rings with canola oil and place on the pan. Grill for 2 minutes per side or until warm with light grill markings.
3. For each serving, spread dessert plate with 3 Tbsp (45 mL) raspberry puree. Top with 2 pineapple rings and, while the pineapple is very warm, sprinkle each serving with 1 tsp (5 mL) brown sugar. Serve warm.
Yield
4 servings
serving size
nutritional analysis
Per Serving
Calories
220
Total Fat
2.5 g
Saturated Fat
0 g
Cholesterol
0 mg
Carbohydrates
52 g
Fiber
4 g
Protein
1 g
Sodium
20 mg