Grilled White Fish with Garlic Sauce
A quick and tasty meal.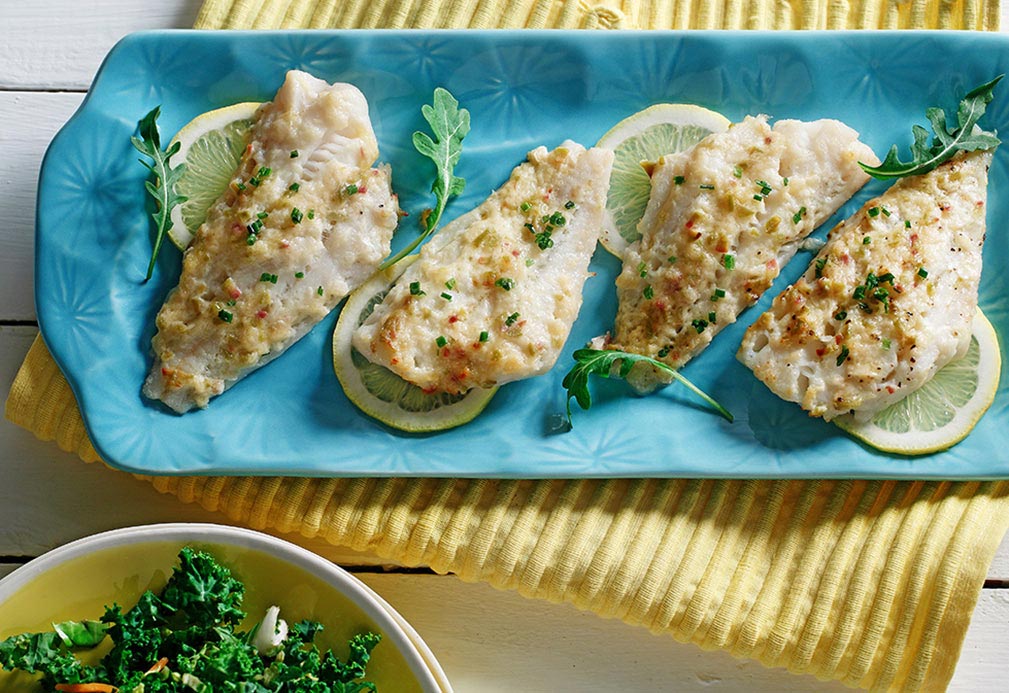 Ingredients
6 white fish fillets (about 4 oz/125 g each)
1/4 tsp salt 1 mL
1/2 tsp ground black pepper 2 mL
3 garlic cloves, minced
2 Tbsp canola oil 10 mL
1/3 cup canola oil mayonnaise 75 mL
2 Tbsp finely chopped green olives 10 mL
4 lemons to accompany, quartered
1 1/2 Tbsp chopped chives, for garnish 6 mL
Instructions
1. Preheat oven to 400 °F (200 °C) with rack in center.
2. On parchment-lined baking pan, place fish fillets. Sprinkle with salt and pepper on both sides.
3. In bowl, whisk garlic with canola oil. Add olives, mayonnaise and stir to combine. Spread mixture over fish fillets.
4. Bake, uncovered, until fish is cooked, about 10-15 minutes. Garnish with chives and serve with lemon wedges.
Yield
6 servings
serving size
1 fish fillet
nutritional analysis
Per Serving
Calories
300
Total Fat
21 g
Saturated Fat
2 g
Cholesterol
75 mg
Carbohydrates
4 g
Fiber
1 g
Sugars
1 g
Protein
22 g
Sodium
240 mg
Potassium
427 mg