White Fish with Phyllo and Sesame Seeds
Phyllo and sesame seeds add a nice crunch to this entree!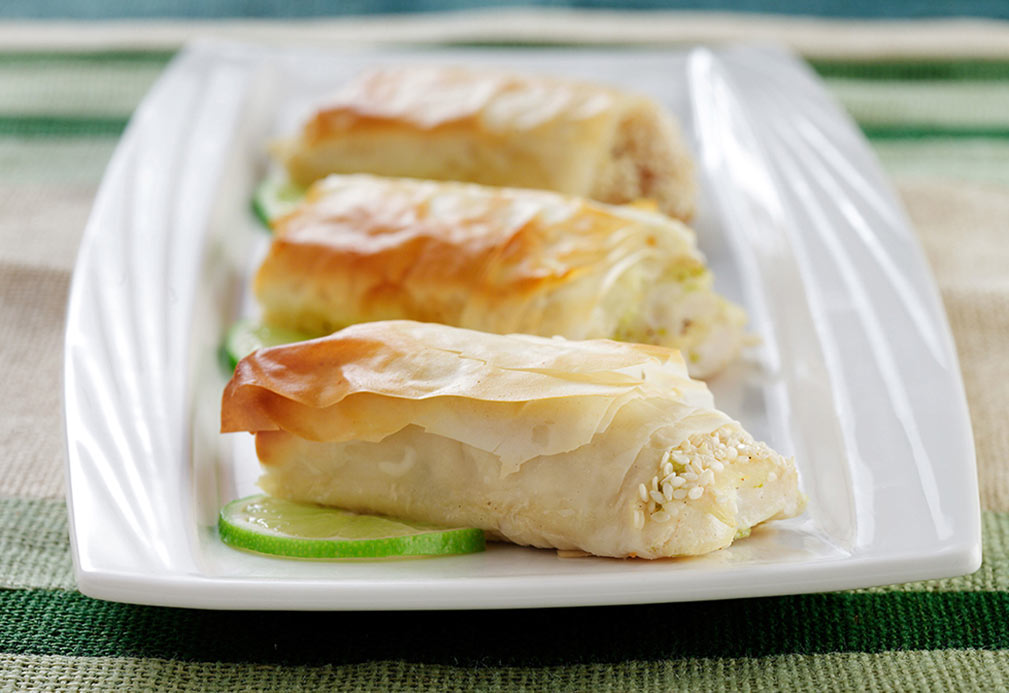 Ingredients
1 Tbsp fresh grated ginger root 15 mL
1 tsp garlic, minced 5 mL
juice and zest of two limes
1 Tbsp sesame oil 15 mL
2 Tbsp canola oil 30 mL
1/2 tsp sea salt 2 mL
1/4 tsp pepper 1 mL
4 white fish filets
1 cup sesame seeds 250 mL
3 phyllo sheets
Instructions
1. In a bowl mix together ginger, garlic, lime juice, lime zest, sesame oil, canola oil, sea salt and pepper. Add fish fillets and marinate for 1/2 hour in the refrigerator.
2. Place a sheet of phyllo on work area and brush with canola oil. Place another sheet of phyllo on top of first sheet and repeat with canola oil until it is three sheets thick. Cut sheets into four strips lengthwise.
3. Add sesame seeds to a plate. Place each filet on the plate of sesame seeds to coat only one side of the filet and then place one filet on each phyllo strip so that the phyllo is in the middle of each filet and roll it up somewhat tightly.
4. Bake in a 400 °F (200 °C) oven for 10-12 minutes or until phyllo is a deep golden brown. Serve with a sauteed bell pepper wild rice pilaf for color and enjoy.
Yield
4 servings
serving size
1 serving
nutritional analysis
Per Serving
Calories
620
Total Fat
41 g
Saturated Fat
6 g
Cholesterol
120 mg
Carbohydrates
20 g
Fiber
6 g
Protein
45 g
Sodium
470 mg