Herb Onion Rolls
Quick and easy bread-making without having to wait for several risings of the dough.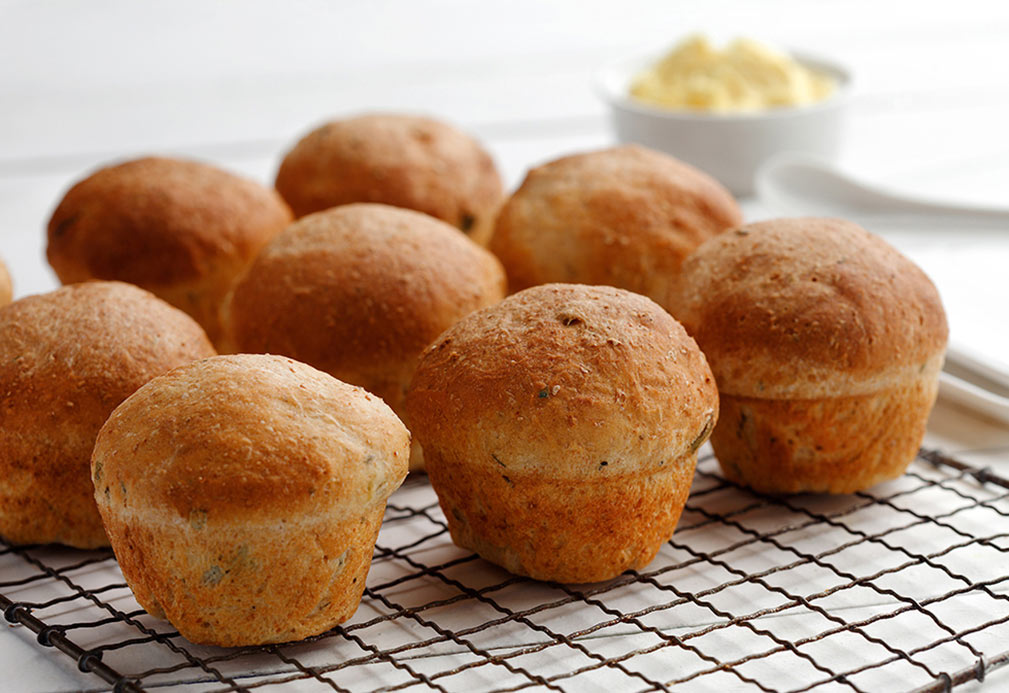 Ingredients
4 tsp rapid rise or instant yeast 20 mL
1 tsp salt 5 mL
1 1/2 cups whole wheat flour 375 mL
1 tsp dried basil 5 mL
1 tsp dried oregano 5 mL
1/2 tsp dried tarragon 2 mL
2 Tbsp honey 30 mL
1/4 cup canola oil 60 mL
1 cup warm skim milk 250 mL
1 cup warm water 250 mL
1/2 cup chopped green onion 125 mL
2 cups all-purpose flour 500 mL
Instructions
1. Thoroughly oil 18 muffin pan cups.
2. In large mixing bowl, combine yeast, salt whole wheat flour, basil, oregano and tarragon. Mix to combine ingredients.
3. In second bowl, whisk together honey, canola oil, milk and water. Add to dry ingredients along with chopped green onion and beat slowly to combine ingredients.
4. While beating, add all-purpose flour to make soft dough. If dough is sticky, add more all-purpose flour to get the right consistency. Continue to beat slowly or knead by hand for 5 to 6 minutes. Cover dough and allow to rest for 10 minutes.
5. Divide dough into 18 equal size pieces. Form into balls and place into prepared muffin cups. Cover with clean cloth and allow rolls to rise in warm place for 25 minutes or until rolls have doubled in size.
6. Bake at 375°F (190°C) for 18-20 minutes or until rolls sound hollow when lightly tapped. Remove rolls from pan and cool on wire rack.
Yield
18 rolls
serving size
1 roll
nutritional analysis
Per Serving
Calories
120
Total Fat
3.5 g
Saturated Fat
0 g
Cholesterol
0 mg
Carbohydrates
20 g
Fiber
2 g
Sugars
3 g
Protein
4 g
Sodium
140 mg
Potassium
72 mg