Molasses Flax Bread
Flax meal can either be purchased vacuum packed from a health food store or you can grind flax seeds in a coffee grinder for immediate use. Grind only what you will use because it goes rancid quickly.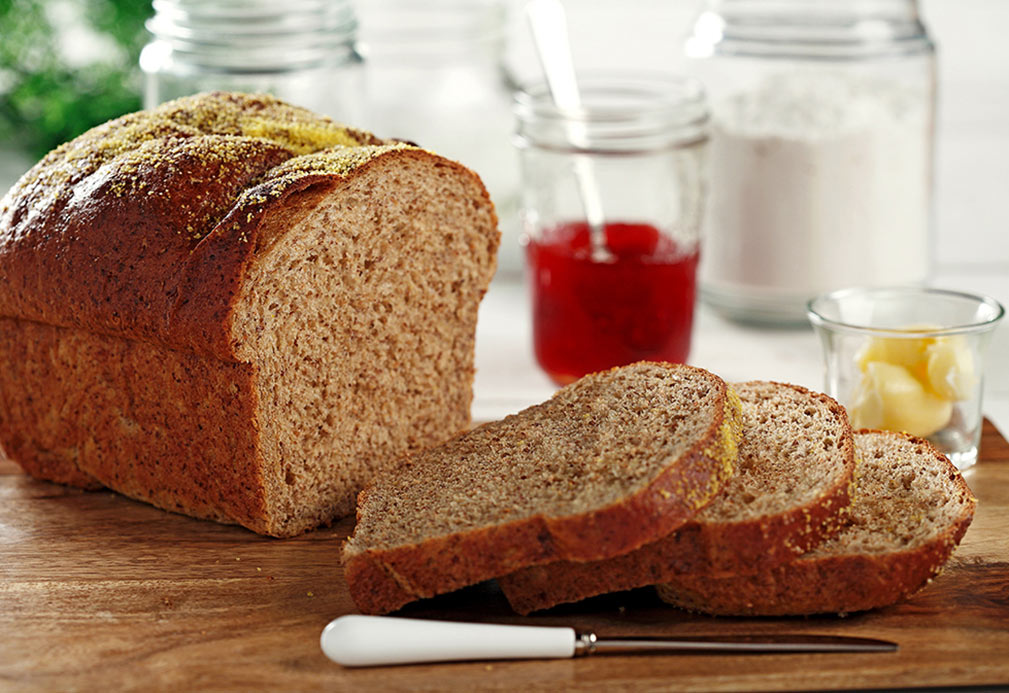 Ingredients
2 Tbsp yeast 30 mL
1 1/4 cups water 300 mL
1 tsp granulated sugar 5 mL
1 cup buttermilk 250 mL
2 Tbsp canola oil 30 mL
1/4 cup molasses 60 mL
1/4 cup maple syrup 60 mL
2 tsp salt 10 mL
1 cup flax meal 250 mL
3 cups whole wheat flour 750 mL
3 cups all purpose flour 750 mL
Instructions
1. Sprinkle yeast over warm water and sugar and let stand in warm place for 10 minutes or until yeast is dissolved. When dissolved stir in buttermilk, canola oil, molasses, syrup, salt and flax meal. Add 3 cups (750 mL) of whole wheat flour and 2 cups (500 mL) of white flour to form sticky dough.
2. Knead for 8 to 10 minutes while working in remaining 1 cup (250 mL) flour. Put in oiled bowl, turn to oil top and let rise until double in size. Punch down, divide in half and either shape into round loaves on baking sheets or put in two 5 x 9 inch (13 x 13cm) loaf pans. Let rise again.
3. Bake at 375 to 400°F (190 to 200°C) for 30 minutes. Mix a mixture of 1 Tbsp (15 mL) melted non-hydrogenated canola margarine and 1 Tbsp (15 mL) maple syrup and brush baked loaves. Dust with corn meal.
Yield
16 servings
serving size
1 slice
nutritional analysis
Per Serving
Calories
202
Total Fat
3 g
Saturated Fat
0 g
Cholesterol
0.5 mg
Carbohydrates
39 g
Fiber
4 g
Protein
7 g
Sodium
308 mg