Skillet Quinoa with Black Beans, Cilantro and Feta
This quick and easy dish is a made-to-order meal for everyday athletes. Quinoa, a gluten-free whole grain, and black beans supply athletes with carbohydrates, fiber, protein and other nutrients that help produce energy, restore cells and replenish nutrient stores. Canola oil keeps saturated fat to a minimum and lets the fresh ingredients shine.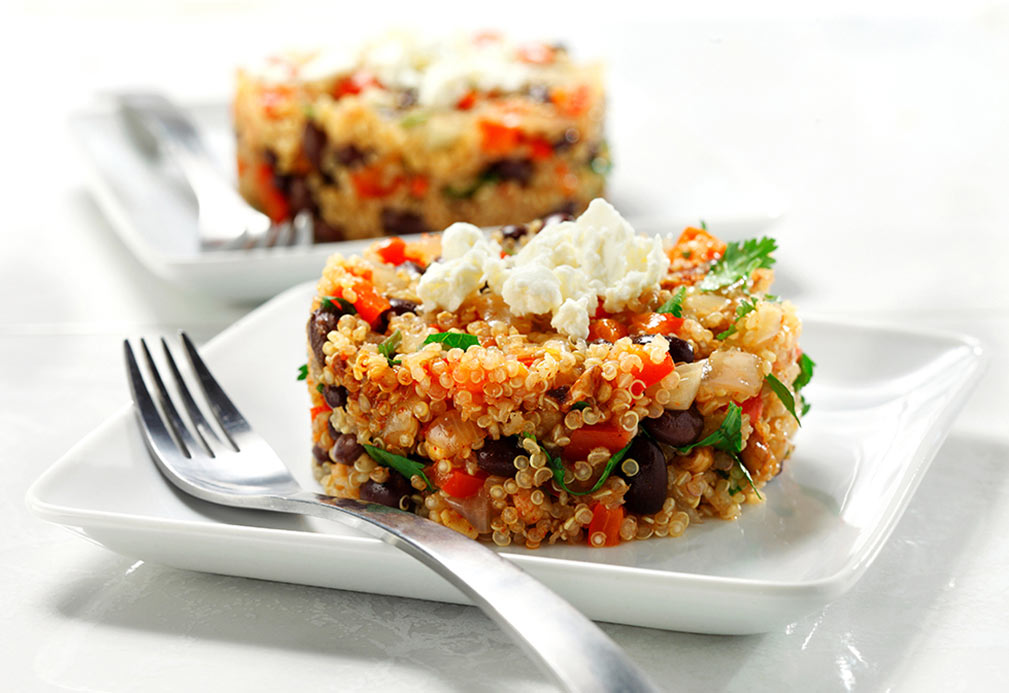 Ingredients
1 Tbsp canola oil 15 mL
1 cup diced onions 250 mL
2 cups diced red bell pepper 500 mL
1 1/2 cups water 375 mL
3/4 cup uncooked quinoa 175 mL
1 can (15 oz/426 mL) reduced sodium black beans, rinsed and drained
1/4 cup chopped walnuts 60 mL
2 tsp chili powder 10 mL
1/3 cup crumbled reduced fat feta cheese* 75 mL
1/4 cup chopped fresh cilantro 60 mL
1 medium garlic clove, minced
1/2 tsp salt 2 mL  
Instructions
1. In large, non-stick skillet, heat canola oil over medium-high heat. Add onion and pepper. Sauté 5 minutes or until onions begin to brown on edges, stirring occasionally. Add water and quinoa. Bring to boil over medium-high heat, reduce heat, cover and cook on medium-low for 12 minutes or until water is absorbed. 
2. Remove from heat, stir in beans, walnuts, chili powder, feta, cilantro, garlic and salt. Cover and let stand 2 minutes to heat through and absorb flavors.
*Note: For a vegetarian version, replace feta with vegan cheese or tofu. Leftovers? Add quartered grape tomatoes, a squeeze of fresh lemon juice and a bit more cilantro for an easy meatless entrée.
Yield
6 servings
serving size
1 cup (250 mL)
nutritional analysis
Per Serving
Calories
230
Total Fat
8 g
Saturated Fat
1.5 g
Cholesterol
0 mg
Carbohydrates
31 g
Fiber
7 g
Sugars
3 g
Protein
10 g
Sodium
360 mg
Potassium
445 mg