Lettuce Wraps with Agave Chipotle Sauce
This easy and flavorful starter combines Asian and Latin ingredients for a dish with unique flair. Canola oil's high smoke point makes it ideal for sautéing the filling, while its mild taste lets the smoky heat of the sauce pop.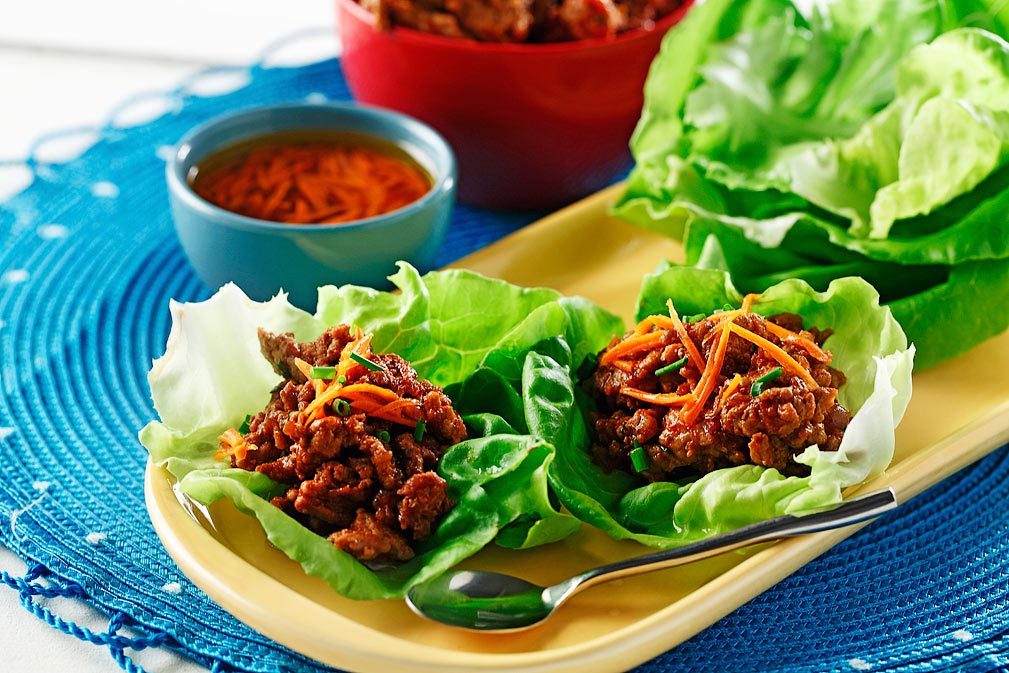 Ingredients
2 Tbsp canola oil 30 mL
1/3 cup chopped red onion 75 mL
2 cloves garlic, chopped
1/2 lb ground pork 250 g
1 lb ground chicken 500 g
1/4 cup grated fresh ginger 60 mL
1 Tbsp chopped chives 15 mL
2 Tbsp tomato paste 30 mL
3 Tbsp low sodium soy sauce 45 mL
1/2 tsp ground black pepper 2 mL
1/2 tsp sesame oil 2 mL
Agave Chipotle Sauce
1/2 cup white or rice vinegar 125 mL
1/4 cup canola oil 60 mL
1/4 cup agave nectar 60 mL
1/4 cup carrot grated 60 mL
1/2 tsp chipotle chili pepper powder 2 mL
1 head Boston lettuce
Instructions
1. In skillet, heat canola oil and sauté onion, garlic, pork and chicken until golden brown.
2. Add ginger, chives and tomato paste. Season with soy sauce, black pepper and sesame oil. Mix well.
3. For sauce: Combine vinegar, canola oil and agave nectar. Add carrots and chili powder. Whisk to combine.
4. Serve with lettuce leaves and allow each guest to make own wrap. To make, place 2 Tbsp (30 mL) meat mixture in middle of lettuce leaf. Drizzle with 1 tsp (5 mL) of Agave Chipotle Sauce. Fold lettuce leaf around mixture and eat.
Yield
25 servings as an appetizer
serving size
2 Tbsp (30 mL) meat with 1 tsp (5 mL) sauce in a lettuce leaf.
nutritional analysis
Per Serving
Calories
110
Total Fat
7 g
Saturated Fat
1.5 g
Cholesterol
30 mg
Carbohydrates
3 g
Fiber
0 g
Sugars
3 g
Protein
7 g
Sodium
75 mg
Potassium
201 mg