Loukomades (Greek Fried Dough Balls)
These little dough puffs will melt in your mouth. They are popular in Mediterranean countries and a treat during Hanukkah. Canola oil's high heat tolerance is ideal for frying the dough.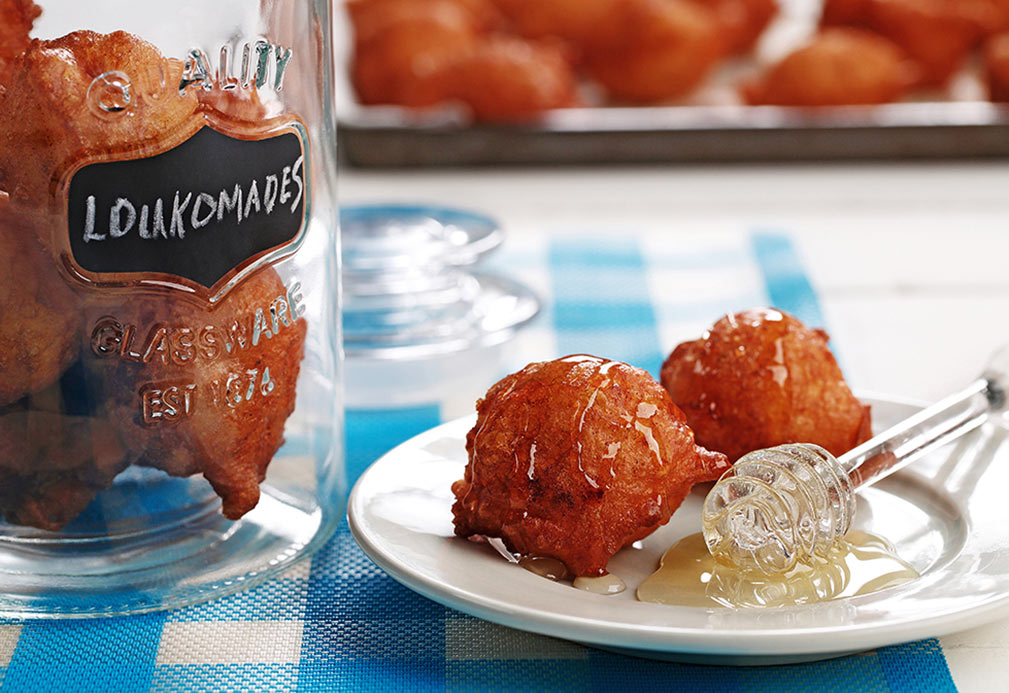 Ingredients
Dough
1 cup warm water (100 °F/40 °C) 250 mL
2 Tbsp active dry yeast (about 2 packages) 30 mL
1/4 cup granulated sugar 60 mL
1/2 cup warm 2% milk (100 °F/40 °C) 125 mL
3 eggs
1/3 cup canola oil 75 mL
4 cups all-purpose flour 1 L
1 tsp salt 5 mL
3 cups canola oil (for frying) 750 mL
Glaze
1/2 cup honey 125 mL
1/2 cup water 125 mL
2 tsp cinnamon 10 mL
1 tsp ground nutmeg 5 mL
Instructions
1. In small bowl, pour warm water, sprinkle yeast and sugar on top and whisk to dissolve. Let stand for 6 minutes until it starts to bubble.
2. In large bowl, add warm milk and yeast mixture. With wooden spoon, beat in eggs and canola oil. Add flour and salt, mixing to form wet dough.
3. Cover with plastic wrap and let sit in draft-free space for 45 minutes or until double in size.
4. Stir dough down and re-cover and let double again in bulk, about 30 minutes.
5. Meanwhile, using deep fryer or wok, heat canola oil to 375 °F (190 °C). Use deep-frying thermometer.
6. Dip spoon in warm water then scoop 1 Tbsp (15 mL) dough to form ball and repeat until 4-5 balls have been formed. Dough will be very tacky so make sure you dip spoon in water after each ball. Add 4-5 balls to fryer at time and fry until golden brown on bottom and then, using wooden or metal spoon, roll them over to cook other side, about 3 to 4 minutes per batch.
7. Remove dough balls from oil and drain on paper towels. Repeat until all dough has been fried. Between batches, you may want to stir dough, as it will rise.
Meanwhile, in small saucepan, heat honey and water to create glaze. Drizzle on top of fried loukomades. Sprinkle with cinnamon and nutmeg.
Yield
about 48 loukomades
serving size
3 loukomades
nutritional analysis
Per Serving
Calories
290
Total Fat
15 g
Saturated Fat
1.5 g
Cholesterol
35 mg
Carbohydrates
35 g
Fiber
1 g
Sugars
13 g
Protein
5 g
Sodium
160 mg
Potassium
80 mg