Sufganiyots (Jelly Filled Doughnuts)
Sufganiyots are jelly-filled doughnuts sprinkled with sugar that are served around the world during the Jewish festival of Hanukkah. When it comes to deep-frying, canola oil's high smoke point can take the heat.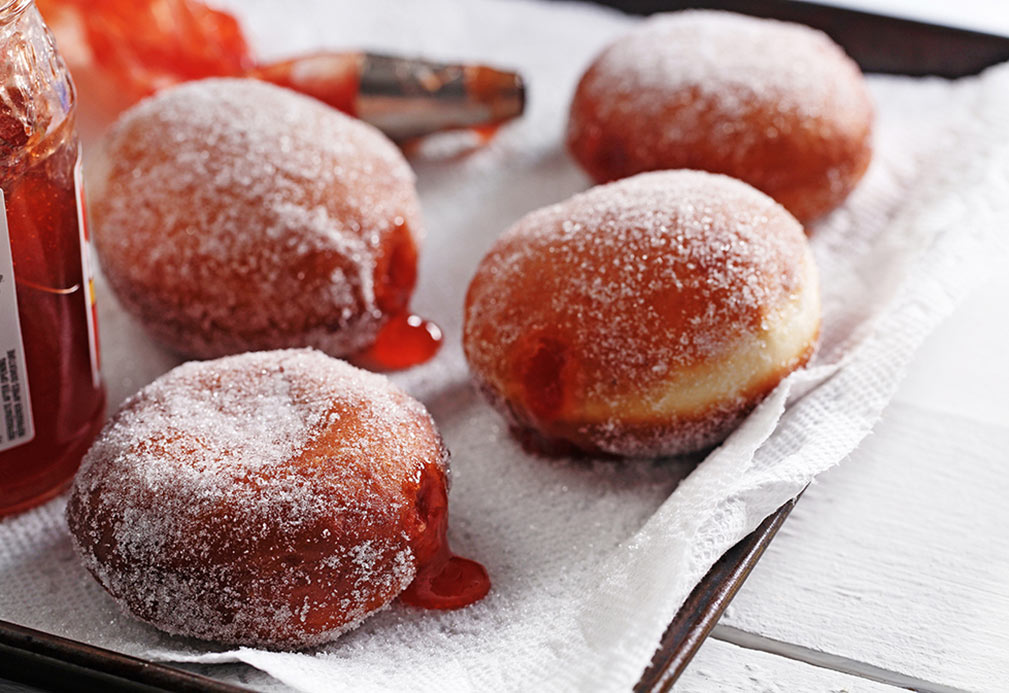 Ingredients
2 Tbsp active dry yeast (about 2 packages) 30 mL
1/2 cup warm water (100-110 °F/40-43 °C) 125 mL
1 tsp granulated sugar 5 mL
2 1/2 cups all-purpose flour, plus more for dusting 625 mL
2 large eggs at room temperature
1/4 cup granulated sugar 60 mL
2 Tbsp non-hydrogenated canola oil margarine 30 mL
1/2 tsp ground nutmeg 2 mL
1 tsp salt 5 mL
canola oil cooking spray
2 cups canola oil (for frying) 500 mL
1/4 cup granulated sugar* (for rolling) 60 mL
3/4 cup strawberry jam (or your choice), room temperature 175 mL
Instructions
1. In small bowl, combine yeast, warm water, and 1 tsp (5 mL) sugar. Set aside until foamy, about 30 minutes.
2. In large bowl, add flour. Make well in center; add eggs, yeast mixture, 1/4 cup (60 mL) sugar, margarine, nutmeg and salt. Using wooden spoon, stir until sticky dough forms.
3. On well-floured work surface, knead until dough is smooth, soft and bounces back when touched, about 3 minutes. Spray bowl with canola oil cooking spray, place dough in bowl; cover with plastic wrap. Set in warm place to rise until doubled, 1 hour or so.
4. On lightly floured work surface, roll dough to ¼-inch (0.6-cm) thickness. Using 2½-inch (6-cm) round baking cutter, cut into 18 rounds. Cover with plastic wrap; let rise 15 minutes.
5. In large saucepan over medium heat, heat canola oil until deep-frying thermometer registers 375 °F (190 °C).
6. Working in three batches, use slotted spoon and carefully spoon six rounds into canola oil. Fry until golden, about 45 seconds on each side. Remove with slotted spoon, transfer to paper towel-lined baking sheet. Immediately roll in sugar. Repeat with remaining dough.
7. Fill pastry bag fitted with #4 tip with jam (or fill plastic condiment squeeze bottle). Using wooden pick, make hole in side of each doughnut. Fit pastry tip (or tip of squeeze bottle) into hole, pipe about 2 tsp (10 mL) jam into doughnut. Repeat with remaining doughnuts.
Yield
18 sufganiyots
serving size
1 sufganiyot
nutritional analysis
Per Serving
Calories
170
Total Fat
6 g
Saturated Fat
0.5 g
Cholesterol
20 mg
Carbohydrates
27 g
Fiber
0 g
Sugars
14 g
Protein
3 g
Sodium
150 mg
Potassium
38 mg