Maple Roasted Vegetables
Canola oil is one of the healthiest vegetable oils, It has no trans fats and lowest saturated fat level of any commonly used vegetable oil.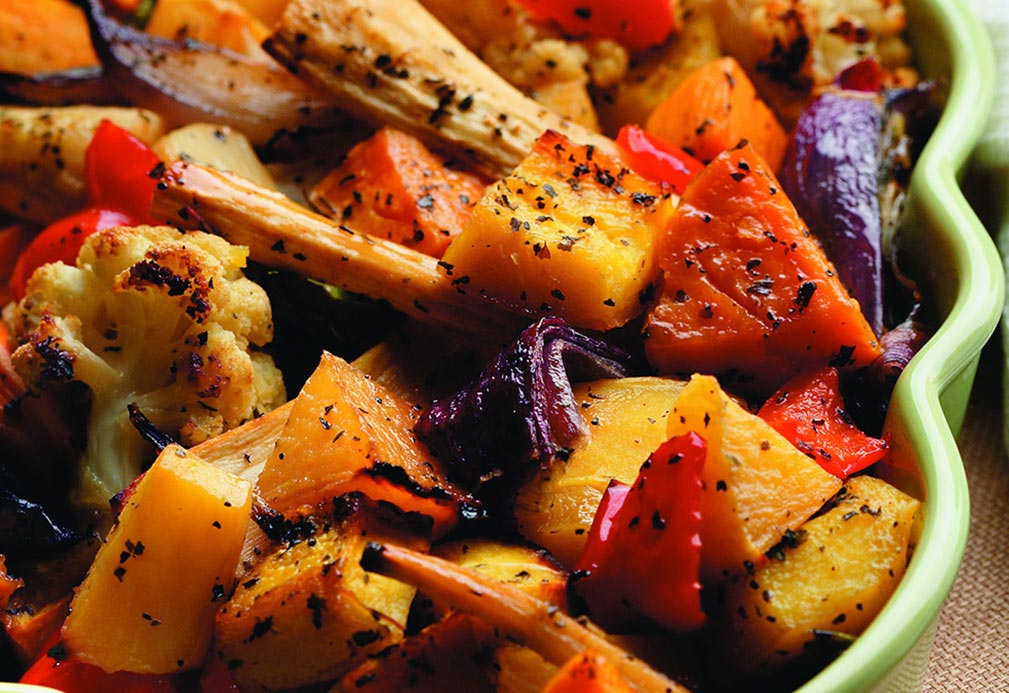 Ingredients
1/3 cup canola oil 75 mL
1/3 cup maple syrup 75 mL
1 each red and green peppers, cut into large cubes
1/2 head cauliflower, sliced 1 1/2 inch (4 cm) florets
1 sweet potato, cut into 1 1/2 inch (4 cm) cubes
1 acorn squash, peeled and cut into 1 1/2 inch (4 cm) cubes
4 parsnips, peeled and cut lengthwise
4 carrots, peeled and cut lengthwise
1 head of garlic, peeled and separated into cloves
1 large red onion, cut into eighths
1 tsp each salt and pepper 5 mL
1 Tbsp dried basil 15 mL
Instructions
1. Preheat oven to 425 ºF (220 ºC).
2. In a large bowl, mix together canola oil, maple syrup, peppers, cauliflower, sweet potatoes, squash, parsnips, carrots, garlic, red onion, salt, pepper and basil. Place mixture on a baking pan lined with parchment paper.
3. Bake for 40 to 45 minutes, stirring occasionally until vegetables are tender.
Yield
10 servings
serving size
nutritional analysis
Per Serving
Calories
190
Total Fat
8 g
Saturated Fat
0.5 g
Cholesterol
0 mg
Carbohydrates
28 g
Fiber
6 g
Protein
3 g
Sodium
280 mg