Grilled Seasonal Vegetables with Nicoise "Aioli"
Recipe developed at The Culinary Institute of America (CIA) by Chef Instructor Brenda La Noue. See Chef Almir Da Fonseca prepare the recipe in the video.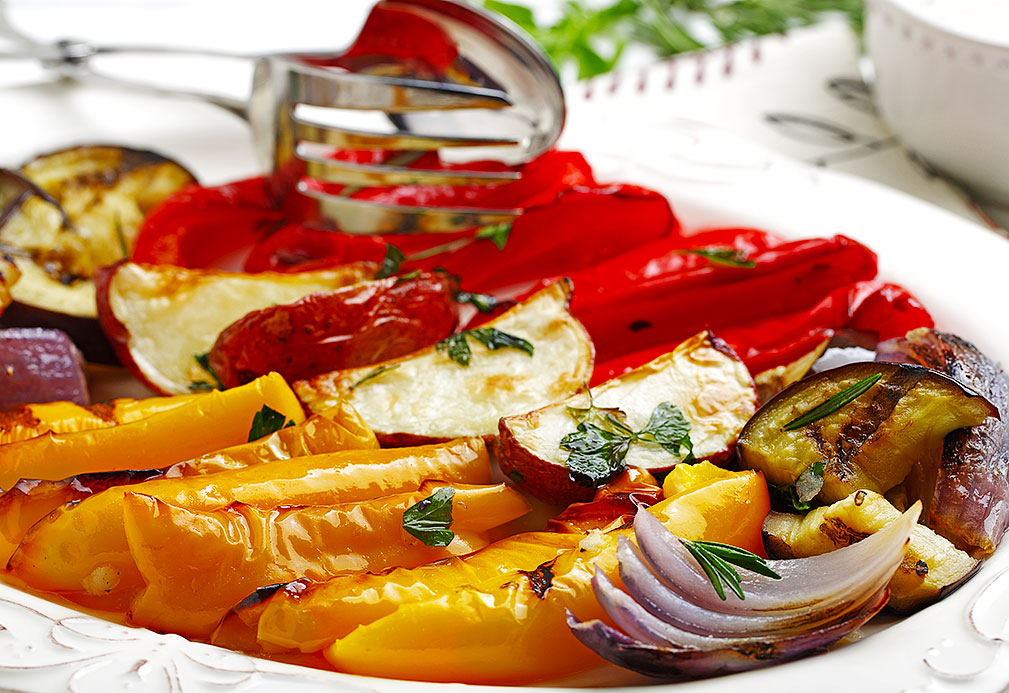 Ingredients
Niçoise "aioli"
1 Tbsp shallot, small dice 
2 Tbsp lemon juice
1 Tbsp capers, chopped 
1 Tbsp Dijon mustard
1 tsp anchovy paste
1/4 cup canola mayonnaise
1/4 cup Greek yogurt
1/2 cup Niçoise olives, chopped
Vegetables
1 cup canola oil
2 Tbsp lemon juice
1 Tbsp garlic, minced
1 Tbsp parsley, thyme, rosemary, finely chopped
1/4 tsp salt
1/4 tsp black pepper, freshly ground
2 red bell peppers, sliced
2 yellow bell peppers, sliced
1 lb zucchini, sliced
1 lb eggplant, sliced
1/2 lb red potatoes, parcooked, halved
1 red onion, sliced
Instructions
1. For the aioli: In a bowl, combine the shallot, lemon juice, capers, mustard, and anchovy paste. Stir in the mayonnaise, yogurt, and olives. Adjust seasoning with salt and pepper.
2. For the vegetables: In a bowl, combine canola oil, lemon juice, garlic, parsley, salt and black pepper. Coat the vegetables evenly, letting any excess drain completely away from the vegetables.
3. Place the vegetables on a hot grill; cook on both sides (the time will vary depending upon the type of vegetable and the thickness of the cut), rotating once to create crosshatch marks, if desired. Turn the vegetables and complete the cooking on the second side.
4. Serve the grilled vegetables with the Niçoise "aioli" on the side.
Note: Vary the vegetables depending on what's in season.
Yield
10 portions
serving size
nutritional analysis
Calories
200
Total Fat
15 g
Saturated Fat
2 g
Cholesterol
5 mg
Carbohydrates
14 g
Fiber
4 g
Sugars
4 g
Protein
4 g
Sodium
180 mg
Potassium
481 mg