Orange Soy Marinated Salmon
The marinade in this recipe blends together traditional ingredients found in teriyaki sauce such as soy sauce, garlic and ginger, but adds orange juice and chili flakes for a twist. Canola oil showcases these ingredients beautifully while protecting the salmon on the grill.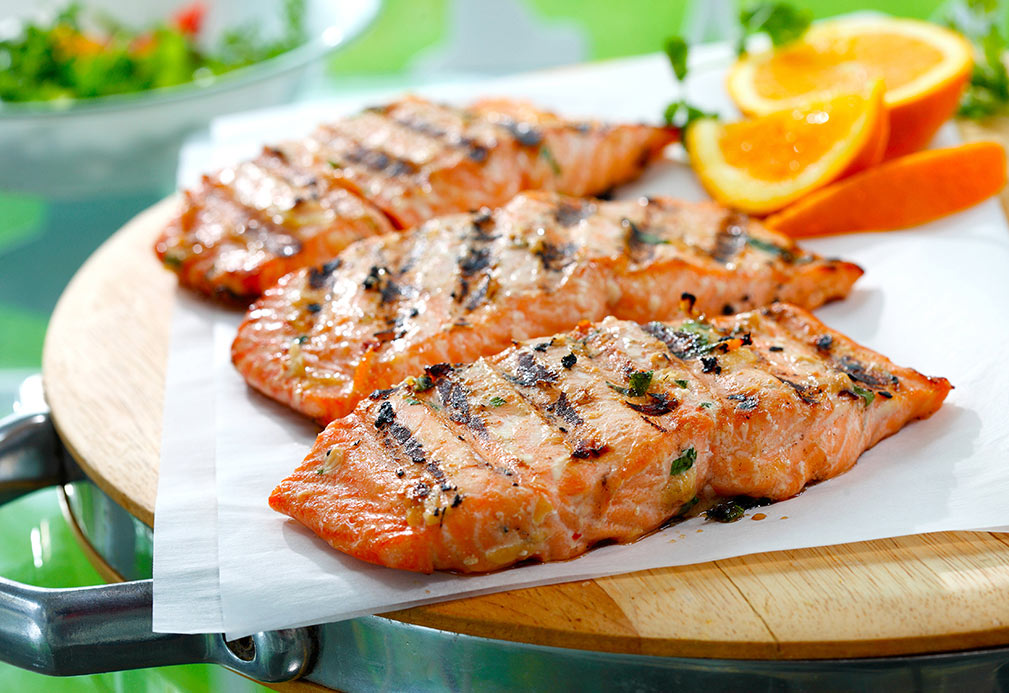 Ingredients
Marinade
3 Tbsp low-sodium soy sauce 45 mL
2 Tbsp sesame oil 30 mL
3 Tbsp honey 45 mL
1/4 cup orange juice 60 mL
1/4 cup canola oil 60 mL
3 Tbsp chopped cilantro 45 mL
1 1/2 Tbsp finely chopped ginger 20 mL
2 cloves garlic, finely minced
2 green onions, finely chopped
2 tsp orange zest 10 mL
1 tsp red pepper flakes 5 mL
Fish
4 salmon fillets
Instructions
1. In non-reactive mixing bowl (plastic or glass), mix together all marinade ingredients.
2. In heavy resealable plastic bag, place marinade and salmon, turning bag over a few times and refrigerate about 1 to 2 hours.
3. Remove salmon from marinade and discard it.
4. Place on hot, lightly oiled grill and barbecue for 5 to 8 minutes, depending on desired doneness.
Tip: Beef or chicken can be substituted for the salmon.
Yield
4 servings
serving size
1 fillet
nutritional analysis
Per Serving
Calories
180
Total Fat
8 g
Saturated Fat
1 g
Cholesterol
50 mg
Carbohydrates
2 g
Fiber
0 g
Sugars
2 g
Protein
23 g
Sodium
120 mg
Potassium
429 mg