Marinated Italian Vegetable Toss
This colorful vegetarian dish includes protein from chickpeas, which are nutrient-dense and popular around the world.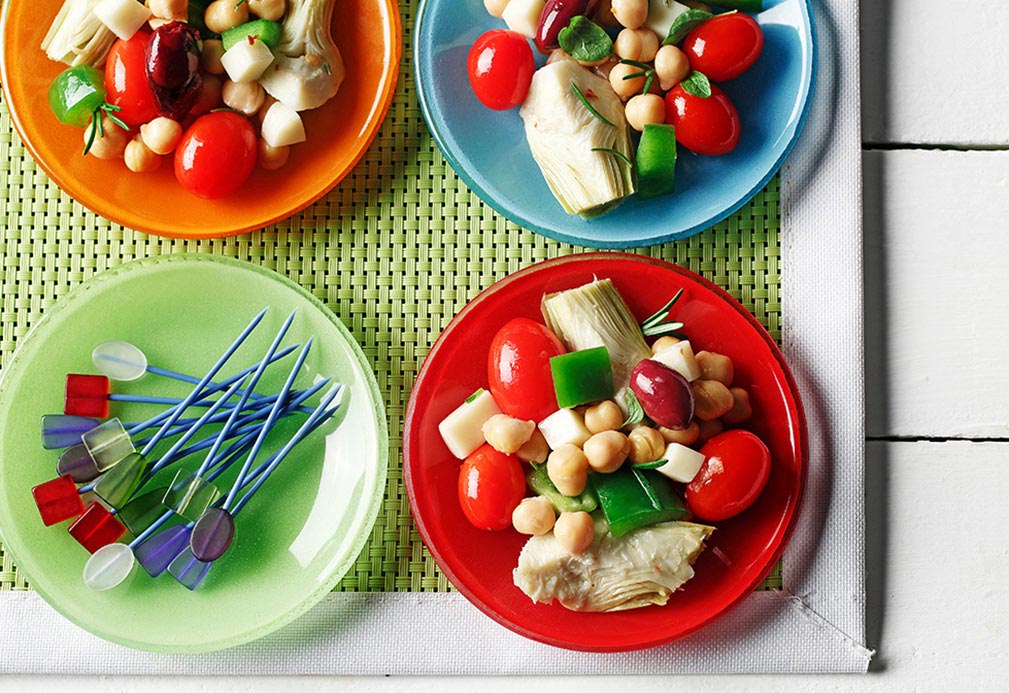 Ingredients
1 can (13.75 oz) quartered artichoke hearts, drained
1/2 of 16 oz/473 mL can chickpeas, rinsed and drained
1 cup grape tomatoes 250 mL
1/4 cup (1 oz/28 g) part-skim mozzarella cheese, cut into 1/4-inch (0.64-cm) cubes 60 mL
8 pitted kalamata olives
1/2 medium green bell pepper, cut into strips
2-3 Tbsp fresh oregano leaves 30-45 mL or 1 Tbsp (15 mL) dried oregano leaves
1 1/2 tsp chopped fresh rosemary leaves 7 mL (or 1/2 tsp/2 mL dried rosemary leaves)
2 Tbsp canola oil 30 mL
1 Tbsp red wine vinegar 15 mL
1 medium garlic clove, minced
1/8 tsp dried red pepper flakes 0.5 mL
Instructions
1. In medium bowl, combine all ingredients and toss gently, yet thoroughly, until well coated. Serve with wooden picks or forks.
Tip: Double the recipe and use leftovers as a topping for a luncheon pasta or green salad.
Yield
12 servings
serving size
1/3 cup (75 mL)
nutritional analysis
Per Serving
Calories
65
Total Fat
3.5 g
Saturated Fat
0.5 g
Cholesterol
0 mg
Carbohydrates
6 g
Fiber
2 g
Protein
2 g
Sodium
140 mg